Pawleys Island considers rules to protect trees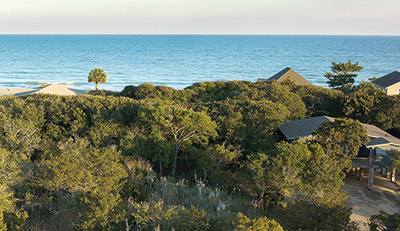 The town Planning Commission will draft options for tree protection.
The town of Pawleys Island will take another look at protecting trees 25 years after Town Council rejected a proposed tree ordinance.
"It's what makes Pawleys unique, the landscape," said John Hildreth, who chairs the Planning Commission.
Tree protection follows the town's decision last year to adopt architectural guidelines for new houses. The Architectural Review Board has talked about requiring a tree survey along with house plans, but hasn't pressed the issue because members say there are other changes to the guidelines that are more urgent.
But landscaping was always a factor that the commission envisioned as part a measure to preserve the "Pawleys look."
"We've discussed landscaping for a year and a half," Hildreth said.
The issue gained momentum when some cedar trees were cut as part of the construction of a new house on the north end, a house that was approved by the ARB. It also fits in with Town Council's efforts to address drainage and flooding, two problems that were not on the table when the town last considered a tree ordinance.
"I didn't realize that trees sucked up so much water," Hildreth said. "One of the worst things we could do is cut all the trees down."
An ad hoc tree commission proposed an ordinance in 1997 that would have required a permit to cut trees with a diameter of 2 inches or greater or cut shrubs over 3 feet tall. Property owners would have been required to submit a vegetation plan for new construction or substantial renovations.
The proposed ordinance, which passed the Planning Commission, would have allowed cutting of plants that were diseased, a threat to public safety or a nuisance.
Property owners told Town Council that the ordinance was too restrictive, particularly if it limited pruning shrubs. (Tree commission members said that wasn't the intent.)
"I don't know anybody on Pawleys who would drop a big live oak tree," one resident told the council in May 1997.
Another questioned the purpose of a tree ordinance when the town didn't even have a design code for houses.
The council rejected the proposed ordinance.
Commission member Mark Hawn questioned whether the current council has an interest in revisiting the issue, "a strong interest."
"I know one of them does," said commission member Fran Green, whose husband Guerry serves on the council.
Toni Ricker, a horticulturalist and an island resident, told the commission last week that concerns about flooding and erosion – in addition to the town's limited financial resources – make tree protection timely.
"One of the most important things we can do that isn't going to cost us any money is to maintain our trees," she said. "I don't think I need to sell anybody on the beauty of keeping the trees."
Ricker suggested that a tree plan for new houses was the logical first step.
"Sometimes trees have to be removed," she said. "Assess what trees should be removed, which trees could potentially be saved."
A tree ordinance should be designed to preserve the volume of trees on the island, so mitigation should be required if trees are cut, Ricker said.
But because space for trees to grow is limited, some mitigation might need to involve stormwater management, she added.
And Ricker said it is important to remind property owners about the value of trees. She did the landscaping when the old Town Hall was renovated a couple of years ago. Part of that work involved trimming trees. That encouraged new growth.
"There are so many things that can be done," Ricker said.
The commission voted to recommend three changes to the architectural review process: reinforcing the board's ability to base decisions on aesthetics, requiring applicants to meet with the board's architect and relaxing the required pitch on porch and dormer roofs from 4/12 to 3/12.
Commission member Robert Moser said it is important to move quickly on the tree survey requirement.
"I would agree with that," Green said.
Commission member John LaMaster noted that there are still some properties that could be subdivided to create new oceanfront lots, which would impact the trees.
"This will be a work in progress," Hildreth said. "We will not forget."