Permits delayed, sea turtle monitors will keep their distance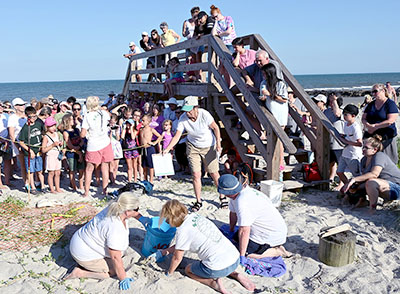 Mary Schneider, standing center, supervises a nest inventory last summer.
Coronavirus will not keep sea turtles from nesting on South Carolina beaches, but it may keep some nests from being protected.
The state's Department of Natural Resources has forbidden volunteers from collecting egg samples and relocating or "manipulating" nests.
"We can walk the beach but we cannot touch the nests," said Betsy Brabson, who monitors DeBordieu for S.C. United Turtle Enthusiasts. "We've never had a year like this. I think we're all kind of groping in the dark."
DNR employees now work from home and not allowed to do field work. All activities by the volunteer monitors are on hold until things get back to normal.
"We know the turtles don't go by South Carolina Department of Natural Resources directives," said Mary Schneider, who monitors Pawleys Island for SCUTE. "They're going to come in regardless."
"The turtles are going to get through it, with us or without us," said Jeff McClary, co-founder of SCUTE.
Volunteers who collect samples or mark, relocate and inventory nests get training and are certified by DNR. They must apply for a DNR permit every year. Those processes are on hold.
Brabson plans to have her volunteers start walking around May 1 and try to at least take pictures of nests and mark them with a GPS.
"It doesn't take long for the evidence of a nest to disappear," she said. "You can't go back a week later and usually find it."
McClary said volunteers may also insert a piece of pipe in the sand near the nest as a marker.
Volunteers will have to find other ways to get onto beaches since Gov. Henry McMaster closed public accesses. McClary said some oceanfront property owners allow volunteers access. There will be no trespassing, he added.
"I don't want to violate the walkway order," McClary said. "There are ways we can still monitor the beach."
Volunteers will have to be more vigilant in July looking for unmarked nests that are hatching. "It will be a challenge," Schneider said.
It was a record setting year for sea turtle nests in 2019 with 8,802 in South Carolina. SCUTE also set a record last year with 357 nests, breaking the previous mark of 226 in 2017. Nearly 170 of those nests were on Pawleys Island and in DeBordieu and Hobcaw.
Schneider is not focused on setting any records.
"The numbers are not important, the most important thing is that they nest and that the nests hatch," she said.
The earliest that SCUTE has ever recorded a nest was May 5.
"A lot can happen in a month," McClary said. "We're taking it one day at a time."