District plans to retain extra staff when relief funds expire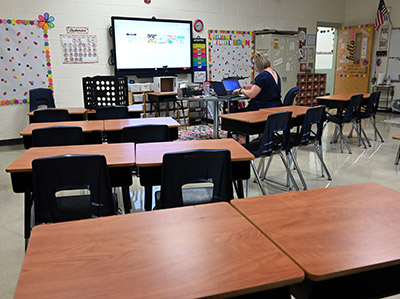 Federal funds are being used to offset the impact of the pandemic, when classes were held remotely.
The Georgetown County School District has been funding 62 positions with money from the federal government for COVID-19 relief.
Even though that funding won't run out until September 2024, the district is not waiting until then to make decisions on which positions to keep.
"There are a lot of positions tied up [and] we have a plan for every one of these positions," Superintendent Keith Price told the school board this week.
The district received $40.7 million in three allocations from the Elementary and Secondary School Emergency Relief (ESSER) Fund passed by Congress as part of two Coronavirus Aid, Relief, and Economic Security (CARES) Acts and the America Rescue Plan. It has spent approximately $15.5 million since the 2019-20 school year.
Among the positions the ESSER money is funding are 19 interventionists, 12 classroom teachers, five rehabilitative behavioral health services counselors, four college and career readiness coaches, four reading or curriculum coaches and three custodians.
Sixteen positions are currently on the chopping block when the funding runs out, including an interventionist and a middle school teacher at Coastal Montessori Charter School, the college and career coaches and the RBHS counselors.
Lisa Johnson, the district's associate superintendent for finance and technology, told the board that the district already transitioned three teaching positions out of ESSER funding after an increase in enrollment this school year.
"We are working very hard trying to use attrition, retirements and resignations to balance the enrollment needs with class sizes," Johnson said. "If there are any resignations or retirements between what we know about and the end of the school year, we're holding those positions. But there are certain positions that are really hard to fill. To provide services you have to hire too. So we're trying to balance all that."
"Our middle and high [school] positions are critical because they're subject specific," said Board Member Patti Hammel.
The district is also rechecking teacher allocations against current enrollment, Johnson added.
Price said the district will consider moving teachers to different schools due to a change in enrollment, but not yet.
"After two more years, if we're still there, then we would have to consider that," he added. "But right now these ESSER funds allow us the flexibility to not move people just to bring them into balance."
Board Member Bill Gaskins was concerned about being able to keep interventionists, who work with students one-on-one or in small groups.
"Part of the discussion we've already had with our principals is they've started planning for that now," Price said. "Their choice is to keep an interventionist and absorb that into their allocation, or move the interventionist back into one of their allocated classroom teaching positions."
Principals already have plans, and contingency plans, in place, Price added.
Ashley Cameron, principal of Waccamaw Elementary, said the interventionists were the "most impactful" use of ESSER funds.
"We're seeing growth. It's one of my favorite classes to go into," Cameron told the board. "Seeing those interventionists work with those smaller groups every day, it's huge and it's powerful. We definitely appreciate those interventionists positions. They've been a huge help for us."
Ginny Haynes, principal of Waccamaw Middle, said interventionists, instructional coaches and RBHS counselors have been "instrumental" to her students' success.