POA seeks permits to build beach and dune at Litchfield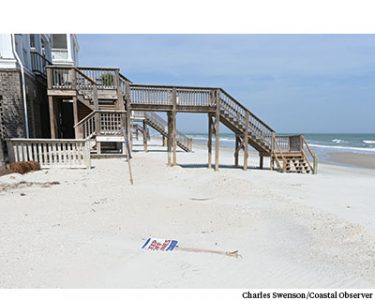 The project includes a 6-foot-high dune along portions of the beachfront.
Property owners on the southern tip of Litchfield Beach are seeking state and federal permits to pump up to 700,000 cubic yards of offshore sand along nearly a mile of beachfront.
The project, proposed by the Peninsula Property Owners Association, includes building a 6-foot tall dune along 4,000 feet of beach. The purpose is to reduce storm damage, according to the association.
There are 33 lots in the Peninsula development, which is the third phase of Inlet Point South. It was developed by the Litchfield Co. in the mid-1990s. The property is covered by the federal Coastal Barrier Resources Act, which prohibits the use of public funds for infrastructure.
The Charleston District of the Army Corps of Engineers and the state Department of Health and Environmental Control are taking public comments on the project.
It was designed by Coastal Science and Engineering, which recently completed a beach renourishment project on Pawleys Island that placed 1.1 million cubic yards of sand on 3 miles of beach. That project cost $14.3 million.
The Peninsula lots cover 2,500 feet of the narrow spit. The project would extend another 2,500 feet farther north, taking in other parts of the gated Inlet Point community.
"The fill volumes generally decrease moving from south to north, reflecting the generally healthier condition of the northern end of the project site," according to the permit application.
How much sand is placed will depend on funding, the application notes.
The sand will be dredged from an area 1.5 to 4 miles offshore and pumped to the beach.
The work will be done outside the sea turtle nesting season "if practicable," according to the application.
Comments can be made online at epermweb.dhec.sc.gov through May 15.