Pre-dawn fire destroys lumber company building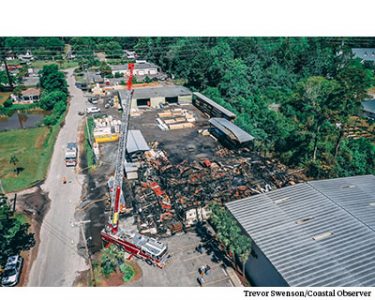 The fire destroyed the original lumber company building.
Investigators are still looking for the cause of a three-alarm fire that destroyed a 7,300-square-foot building at Pawleys Island Lumber.
Flames were already reaching far above the lumber yard on Archer Road when Midway Fire and Rescue units arrived shortly after 4 a.m. Thursday.
The building, which was the original home of the lumber company, was between a lumber shed and the main building, which was already starting to smoke, Midway Fire Chief Doug Eggiman said.
"The initial focus was on trying to keep it from spreading in either direction," he said. "If it had gotten into the lumber yard or the other building we would probably still be fighting it."
The building was primarily used for storage and millwork. A truck and a couple of forklifts were destroyed. A propane tank on one forklift flared and then exploded, Eggiman said.
It was the baptism by fire for Midway's new ladder truck, the tallest in the state. A thermal imaging camera atop the 137-foot ladder helped firefighters direct water after the metal roof collapsed.
"We've used it on a search and a couple of accident scenes," Eggiman said. "This is the first fire it's been on. It's great having the higher capability. It helps get up over these power lines."
No injuries were reported.
The city of Georgetown sent two fire trucks for backup, Georgetown County sent two medic units, Murrells Inlet-Garden City Fire Department sent an engine and Horry County sent units along with an investigations team.
Georgetown County Water and Sewer was notified to help maintain water pressure.
It was a rare commercial fire and the largest structure fire for Midway since a home at North Litchfield burned during a heat wave last summer.
"You hate is so much for the owners, but I'm glad nobody got hurt and they can still keep their business going," Eggiman said.