Preservation brings new uses to old building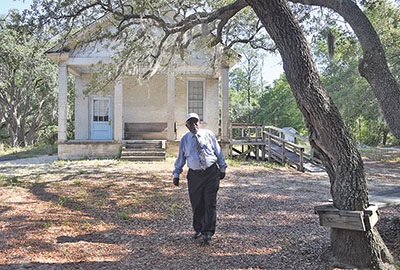 The Rev. George Weathers outside the school he attended as a child. He still lives nearby.
George Weathers used to arrive at school at 8:30 a.m. and say the Lord's prayer at the first bell. There were two classroom with four or five rows of chairs: first grade through fourth and fifth through eighth. The teacher was strict, he said.
That was in the 1940s. The Sandy Island School closed in 1966.
Kids now take the school boat to the mainland, just like Weathers did when he reached high school.
But the school that was built in 1932 by Archer and Anna Hyatt Huntington, founders of Brookgreen Gardens, still stands. Island residents hope its preservation and continued use will keep it at the center of community life on the island between the Waccamaw and Pee Dee rivers.
The Sandy Island Cultural Initiative is a collaboration between the community, Coastal Carolina University and Brookgreen Gardens. It received a National Park Service Civil Rights Grant to document and begin preservation of the Sandy Island School.
"We got really positive feedback," said Alli Crandell, the director of digital initiatives at Coastal Carolina. "We were one of the few sites in South Carolina to receive this grant."
Sandy Island's history deserves to be recognized, residents say.
"It's important because even some people right here in South Carolina have never heard about Sandy Island," said Weathers, former pastor of New Bethel Church on the island. "When they hear about Sandy Island and how the people who live there have to go home in boats, they think it's something that is not true. So we tell a lot of people to just look and see whether it's true."
Coastal Carolina did a preservation project at St. Helena Island in Beaufort County. "As we presented that project in this region, people kept saying there's not a whole lot of African American heritage up here," Crandell said. "We realized how little people knew about the important African American heritage we have in this area."
That led Coastal Carolina to create a group of students and faculty to look through past research.
"Of course the Sandy Island story came out because we have a long legacy with the community with Charles Joyner," Crandell said, referring to the late historian who wrote about rice culture and folkways on the Waccamaw Neck. "It's still the only boat-accessible kind of preserved cultural landscape."
That led to a book, "At Low Tide: Voices of Sandy Island," in 2017.
"It's incredibly important because it's representative of so many other communities that exist across South Carolina, up and down," Crandell said. "It's self-sufficient, strong commitment to education, strong commitment to democracy, and so, through that process, it became this grant opportunity for the civil rights legacy."
At a meeting with island residents last week, Crandell and others from Coastal Carolina outlined what needs to be done to begin renovations in the fall of 2020. The project is still evolving and the university wants input from residents.
A community center, classrooms with updated technology along with traditional features, and a senior center were some of the ideas discussed.
"Once they get it back to original form, I want to see that the people utilize it more than they did before," said Charles Pyatt who grew up on the island and returned after 24 years in the army. "With all the stuff that they talked about getting, I hope they get it, and I hope they utilize it. Especially the young kids."
The island needs a community center that is also a place to learn, he said.
"The reason I want that on Sandy Island is because Sandy Island has no historical site right now," Pyatt said. "We would definitely like to bring that old school house back to original form because every time we have a meeting or something now, everybody gotta run to the church."
The collaboration has made residents hopeful for the future of Sandy Island.
"We are working with Coastal on this project very well, and I think that we've made some progress by working with them," Weathers said. "So I'm glad that Coastal came in and tried to lift the part that is so important to that community: education. That's the thing that Sandy Island has always believed in. They had believed in education. And a lot of the people that went out into society and into the world have been blessed through that school on Sandy Island that taught them how to go about life."
"From Coastal's perspective, it's a really fabulous collaboration because our students get hands on, professional level experience in historic preservation through historic documentation and oral histories and collecting history and also designing of exhibition materials," said Crandell. "So our students get so much out of this. So it feels good to be able to do a project like this where our students gain experience but, at the same time, is spending the day with a community."
By this fall the project team looks to apply for National Park Service funding and inclusion on the National Register of Historic Places. They aim to solicit and hire a contractor to complete repairs early next year.
The project team will hold a follow-up meeting at the Litchfield Education Center at noon Tuesday to gather additional feedback on future use of the center and renovation priorities.