Program teaches first aid for mental health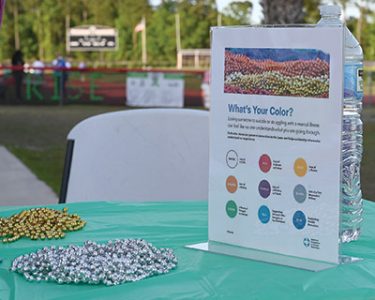 A Community RISE walk at Waccamaw High this spring focused on mental health.
If there's one good thing that has come out of the COVID-19 pandemic it's an open conversation about the toll the last 17 months has taken on people's mental health.
"We need to normalize the conversation about mental health, specifically in our young people so we can help them before we have to look back and say 'what could we have done,'" said Dr. Aixa Rodriguez-Mariani, program manager for the Waccamaw branch of Healthy Learners.
The nonprofit is a mission of the Sisters of Charity of St. Augustine. Its goals are to remove health barriers to learning by providing students with access to health care, including vision, dental, hearing and asthma screenings.
After the suicides of two Waccamaw High School students in 2019, Rodriguez-Mariani started thinking about how Healthy Learners could help do more for children with mental health issues.
"That hit us here and showed us that we are not immune to all that was happening," she said.
Research led Rodriguez-Mariani to Youth Mental Health First Aid, a program that trains adults to recognize the warning signs that a child between the ages of 13 and 18 is struggling with mental health, and to intervene and get help for that child.
Like medical first aid, the program is designed to teach people how to be a first responder.
"It's a tool kit, with an action plan to help young people, regardless of the diagnosis, or whether there is a diagnosis," Rodriguez-Mariani said. "It increases your noticing skills and the likelihood that you will be a person to help a youth with their mental health."
The program teaches people how to identify the warning signs of a mental health issue; learn the difference between typical adolescent behavior, like locking themselves in their room, and the warning signs of mental illness; and learn to listen to a child without judgment.
"People like it because they actually come out with an action plan," Rodriguez-Mariani said. "It is not just education to be aware. You are empowered with tools to actually step into that uncomfortable space to approach a young person that you notice."
There is also a section on starting a discussion about suicide with a child.
"If we as adults are OK talking about it we are opening that door for a young person to be able to do the same," Rodriguez-Mariani said. "Increasing literacy decreases stigma. We need to normalize a conversation so we can help young people."
The training also debunks the myth that if you talk to a child about suicide they'll start thinking about suicide.
"It's the opposite," she said. "Many times, it is a relief for the young person."
Laura Tucker, the nurse at Waccamaw Elementary School, is a fan of the program and said the district is trying to work out a way for all its school nurses to complete the training. Unfortunately there is no way a nurse can leave a school for an entire day.
"I think it's very crucial and it's getting more so and that was true before COVID," Tucker said. "Whatever effects COVID had certainly did not make it better."
Tucker was a psychiatric nurse in North Carolina before joining the school district. She discovered very quickly how important that psychiatric experience was.
"It was as valuable, if not more, than my basic first aid skills," Tucker said. "[Nurses] end up being very involved with behavioral issues as well as the medical issues in most of our schools."
A child's ongoing complaint about a medical issue that cannot be diagnosed, could be masking a mental health issue.
"A lot of psychiatric illnesses first manifest themselves, especially in kids, as a physical complaint," Tucker said. "Sometimes the nurse will be the very first one picking up on that."
Healthy Learners started hosting training sessions in 2019, but stopped last year because of the pandemic. Rodriguez-Mariani said the training is harder to master if done virtually.
"This is a very hands-on training, eight-hour training," she added. "The activities and the interaction of the group are very important."
More than 100 people who work in the county have completed the training, including first responders and staff at Teach My People, the YMCA and every school in the district.
Rodriguez-Mariani said half of the people who have a mental illness started showing symptoms before they turned 14.
"There's a lot of work to be done, but there's more willingness to talk about it," she said. "That's the first step."
For more information go to healthylearners.com or mentalhealthfirstaid.org.