Race begins to fill sheriff's vacant seat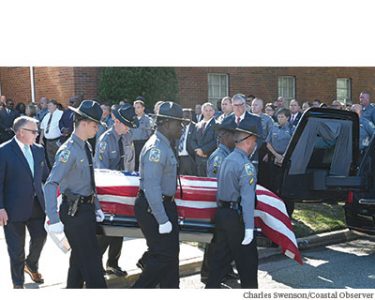 An honor guard carries Lane Cribb's casket from the church, watched by staff from the sheriff's office.
Talk of a successor began as soon as the death of Sheriff Lane Cribb became known last week. He wouldn't have been surprised.
"I don't take nothing for granted," he said after filing for a seventh term in 2016. And he was looking ahead to 2020. "I've got too many things going on that I don't want to stop."
Assistant Sheriff Carter Weaver will serve as acting sheriff until a special election Feb. 4. Under state law, the responsibility goes to the second in command when the office of sheriff becomes vacant.
Weaver declined to say if he would seek election, "out of respect" for Cribb, who died Sept. 19 at age 73.
"I'm concerned with the duties of the office of sheriff and continuing the good work that the people are doing," Weaver said. "They understand what the sheriff would have wanted. They haven't missed a beat."
As for himself, "I will make the decision at the appropriate time," Weaver said.
Filing will open at noon Oct. 4 and run through noon on Oct. 12. Primary elections will be Dec. 3. Runoffs, if needed, will be Dec. 17.
Alan Walters, who twice ran against Cribb, said Weaver will be the front-runner if he runs. "I don't know there's going to be any overwhelming urge by the public to change horses," he said.
Walters will not run. He is the director of safety for the Georgetown County School District. "I'm pretty busy where I'm at," he said.
Darryel Carr announced this week that he will try for a fourth time to win the sheriff's office. He was a deputy for 10 years before leaving to run in the Democratic primary in 2004. He then started a tour bus company.
Carr got 38 percent of the vote in 2016. He then changed parties. "It's sad that you have to run by political party," Carr said. "As a sheriff, you have to serve everybody."
The issues have changed little since he first ran. Drugs and drug-related crimes continue to be top concerns. So is speeding on Highway 17.
"A full-blown traffic unit with a motorcycle and everything would help control traffic on Highway 17," Carr said. He would also have deputies work traffic accidents rather than wait for Highway Patrol in order to clear the roadway.
Carr said he would also increase the visibility of the sheriff's office by getting more people out of the office and onto the streets. "I, as sheriff, will be out there helping them in uniform," he added.
As a former deputy, Carr said he appreciated the way Cribb cared for his staff. He pledged to continue Cribb's efforts to increase deputy pay.
State law sets the qualifications for sheriff, which include at least a year of experience as a "certified law enforcement officer" for someone with a four-year degree.
Walters said he was aware of other law enforcement officers who are interested in running, though none have made formal announcements. It will be a challenge for candidates to find a platform, he added. "You can't say I'm going to do a better job than the deceased, beloved sheriff."
One avenue, Walters suggested, is "embrace his legacy and do as well or better."
Turnout will also be key. It's typically low for special elections, and the primaries fall between holidays.
Whoever is elected in February to replace Cribb will have to file in March to run for the 2020 general election. Party primaries will be in June.
It's likely that the next sheriff will come from the Republican Party. Cribb was elected as a Democrat in 1992. In 2000, he survived a primary challenge from Zach Grate, a former deputy, by 188 votes. Cribb switched to the GOP in 2002.
"I just want to be elected sheriff. I'll do my job the same way as I do it now," Cribb said at the time.