Racquet club poised for return with paddles in hand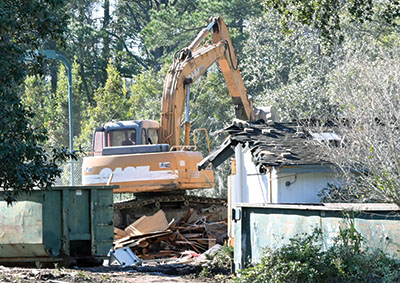 The original clubhouse was torn down last January.
A fall from a roof left Chris Taylor's body broken. It also saved his life. And it has now led to the rebirth of the Litchfield Racquet Club.
Taylor and his wife, Emily, plan to open Litchfield Racquet and Paddle next year on 3 acres that were part of the tennis complex that closed in 2018. The plan for four clay tennis courts and seven hard-surface pickleball courts has county zoning approval, said Holly Richardson, the planning director.
The project is awaiting approval of its stormwater plan from the county and the state Department of Health and Environmental Control. It includes a clubhouse designed by the Graham Group. Plans show the facility will add a quarter acre of pervious surface to the site.
Taylor said he hopes to start work in January. The couple started promoting memberships this fall.
"We've had a lot of positive response," Taylor said. "Pickleball's the fastest growing sport in the world right now."
The property, part of 8.5 acres that was once home to 17 clay courts, is zoned for recreational use as part of a planned development. After its former owners, Founders National Golf, closed the club, it was proposed for residential development. Three different plans, ranging from 108 studio apartments to 19 single-family lots, drew opposition from area residents.
The citizens group Keep It Green emerged from the fight over the racquet club rezoning to take on other land-use issues, including revisions to the county's future land-use plan.
Taylor followed the fate of the club property over that year. "I was really depressed they were going to tear it down," he said. He worked there as an assistant pro 30 years ago while playing tennis at Furman University.
Taylor tried to contact D.J. Karavan, who represented Founders National. Karavan didn't return his calls.
"The only reason we got the property is that Chuck is friends with D.J. Karavan," Taylor said. Chuck Cox is Taylor's partner in the Clam Bake Cove residential development on Highway 17 at Pawleys Island. They are principals in Downtown Litchfield LLC, which bought the site and the property along Highway 17 at the entrance to Litchfield Country Club in April for $550,000.
In hindsight, Litchfield Racquet and Paddle got its start four years earlier when Taylor fell off the roof at the Stables Park tennis complex while trying to retrieve his son's drone. He had a compound fracture of his right arm, broken ribs and his head struck a fence post.
"I should have perished that day," he said.
He couldn't play tennis, so he turned to pickleball at the Waccamaw Regional Recreation Center. "I fell in love with it," Taylor said. "It's just so much easier to play."
Emily is also a convert to the game, he said.
"That fall almost killed me, but it also saved my life," Taylor said. Medical scans discovered that he had a liver problem and needed a transplant. It took 18 months before a liver became available. That was in September 2018, a month before Founders National closed the Litchfield Racquet Club.
"I was really down when I found out it was being developed. That's not how the place should end up," Taylor said.
When he worked there, the club was a top-ranked tennis resort. It not only hosted major regional tournaments, it was a community hub.
"I don't think there's enough tennis demand to support 17 courts anymore," Taylor said. But he thinks it can recapture some of its former glory.
The model is Palmetto Dunes at Hilton Head, Taylor said. It converted some of its clay courts to pickleball in 2015. This year, it was named Pickleball Resort of the Year by a trade group.
One reason for pickleball's popularity is that it is easy to learn.
"You can be halfway decent in 10 days if you have any hand-eye coordination," Taylor said.
There are 4.8 acres of the original racquet club that will remain vacant. "We don't owe anything on the land. We can take our time," Taylor said. "We're just warehousing it."
But if the Litchfield Racquet and Paddle takes off, it could expand. A paddleball facility in Wilmington, N.C., has indoor courts. That could fit on the remaining property, and would allow the facility to host tournaments, Taylor said.
Keep It Green is pleased with the project, said Cindy Person, a leader of the group.
"We're happy that it's going to be used for what it's supposed to be used for: tennis," she said.
Taylor said he didn't get the same response from the Litchfield Country Club POA. "I thought they would be a little more positive," he said.
Right now, he is focused on building the new club. He is trying to locate the irrigation lines that watered the courts. No drawings exist. "It's archaeological right now," Taylor said.
He plans to coordinate with neighbors on plans for lights and will use landscape to reduce noise.
"I want this to be like the Augusta National of pickleball," Taylor said.