Razor thin margin leads to recount in schools race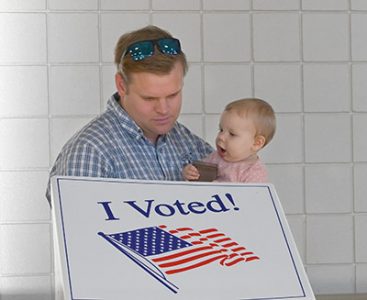 Another early voter, Hayes Blomdahl votes with her dad, Justin. The county saw 43 percent of its votes cast in the early voting period.
Four votes.
That's what separates Scott DuBose (2,169 votes) and Lynne B. Ford (2,165) in the race for the District 2 seat on the Georgetown County School Board.
The results are unofficial, pending a recount that will happen Friday morning after the Board of Elections and Voter Registration certifies the results at its canvass meeting.
"I think everybody on both sides of this is surprised at how close this is. It's absolutely amazing," DuBose said. "We'll just have to see. I think the jury is still out."
"I'm looking forward to it being more definitive," Ford said. Election night "was definitely quite interesting."
DuBose, who is a retired businessman, received the most votes in Pawleys 3 (590) and Pawleys 4 (772). Ford, who is the assistant director of Helping Hands of Georgetown, received the most in Pawleys 2 (312) and Pawleys 5 (587). There were also eight write-in votes for other candidates.
There were reports that some voters in District 2 received ballots that didn't have the school board race on them.
"You just hate to see inconsistencies or disparities," Ford said. "I hope that they can get it worked out as soon as possible."
Aphra McCrea, the county's director of Voter Registration and Elections, said registered voters who believe they received an incorrect ballot should call the elections office and provide their address. A county employee will confirm what district the voter lives in. That is the only way to know whether that person received an incorrect ballot.
The district lines used by the school board and County Council were redrawn after the 2020 census results were released. McCrea said in the past this has caused confusion for some voters.
Ford was elected to the board in 2020 from District 6, but the new lines put her in District 2, where Pat DeLeone did not seek re-election. Ford decided to run in the new district for a full term, although she can still serve two more years in District 6.
"If the outcome does not change, I look forward to continue to serve the children of Georgetown County," Ford said.
DuBose said if he does win by such a narrow margin, it doesn't change his vision of what he wants to accomplish on the board.
"I don't think it is a sweeping mandate, but my views are my views and my platform won't change," DuBose added. "I'll see how much other support there is."
In a three-way race for two at-large seats on the nine-member school board, Kathy Anderson of Georgetown (9,545) was re-elected to a full term and Robert Cox of Georgetown (9,116) won a first term. Mike Cafaro of Pawleys Island (8,250), who was seeking a second term, came in third.
Cox and DuBose received endorsements from the county Republican Party even though the school board members are nonpartisan.
Anderson, who taught in the district for three decades before retiring, was the leading vote-getter on the Waccamaw Neck and in the rest of the county. She was elected to the board in May to fill a vacant at-large seat. She defeated DuBose and Jon Tester with a 32-vote margin.
"I'm very thankful to everybody who voted for me and supported me and helped me in my campaign," Anderson said. "It's a team. It's not just me."
She is very excited to be elected to a full term, she added.
This was first run for public office for Cox, who worked for Georgetown County for almost 30 years before retiring. He received 5,181 votes on the Waccamaw Neck.
"I'm just so grateful and blessed that people in Georgetown County voted for me and trusted me," Cox said. "I've got a lot of work ahead of me, but I'm ready to hit the floor running on a lot of issues."
Cafaro, who retired from the school district, was elected in 2018. At the time, he received the most votes of the at-large candidates.
"I enjoyed serving on the board for the right reasons. I have no relatives working in the system," Cafaro said. "I refused to be affiliated with a political party (this was a non-partisan election) or to accept any donations. I simply wanted to be a servant to the community. I wish everyone in the GCSD much success, and I thank all who provided me with their vote of confidence."
Cafaro received 4,957 votes on the Waccamaw Neck.
In the only contested County Council race, Chairman Louis Morant, a Democrat, defeated David Ballard, a Republican, 1,961 to 1,411 in District 7.
Morant was seeking a second term.
In the two council races where Republicans ran unopposed, Clint Elliott received 3,717 votes in District 1 and Stella Mercado received 4,065 votes in District 6.
The voter turnout in the county was 57 percent. That's a few points lower than the last mid-term election in 2018.
Pawleys Island 5 led the county in votes cast – 2,303 – and voter turnout – 70 percent.
Pawleys Island 1 was second in votes cast with 2,265, followed by Murrells Inlet 1 with 2,252, Pawleys Island 2 with 2,230 and Pawleys Island 4 with 1,881.
Nearly 12,000 voters cast a ballot in person during the two-week early voting period that ended Saturday.
More than half of the ballots – 6,817 – were cast at the elections office in Georgetown. The Litchfield Exchange was second with 4,128 ballots, followed by the recreation centers in Choppee – 560 voters and Andrews – 483.
Those numbers do not include people who voted by absentee ballot.
To see a complete breakdown of local, county and state races, go to scvotes.gov.