Region expects to double federal funds for projects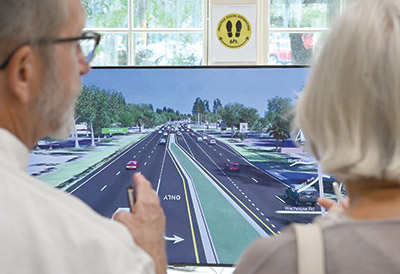 Residents look at proposed improvements to Bypass 17.
If the U.S. House of Representatives passes a $1 trillion infrastructure bill later this month, Georgetown County could see millions of dollars more for road projects than it usually gets.
The county is part of the Grand Strand Area Transportation Study, which chooses which road projects get federal funding. GSATS coverage area also includes Horry County and part of Brunswick County, N.C.
GSATS currently gets $7.6 million a year for projects. That amount could double, according to Mark Hoeweler, its executive director.
The Senate approved the infrastructure bill – which includes $110 billion for roads and bridges – in August. The vote in the House is expected around Sept. 27.
Another factor in funding will be the results from last year's census. GSATS expanded to include parts of North Carolina after the 2010 Census.
Federal funding for infrastructure is based on population numbers, and Hoeweler said Horry and Brunswick counties have seen a large increase since the last census.
Upgrades to Highway 17 along the Waccamaw Neck are not currently considered GSATS projects, but could be in the future.
"We haven't heard at this point what [Georgetown] County wants," Hoeweler said.
A corridor study of Highway 17 by AECOM, which was commissioned by GSATS, proposed $53.3 million worth of projects.
Recommendations included including making all the signals on 17 adaptive to react the traffic volume, installing a signal at the intersection of Bypass 17 and Business 17, installing a left turn lane on Petigru Drive at 17, improving the access to 17 from DeBordieu Colony, and closing the median in 11 places.
The study also recommended a "loop" road at the intersection of 17 and Highway 707 in Murrells Inlet, which was expanded and improved a few years ago. AECOM predicts the intersection will fail in 2022.