Remains of 22 people unearthed at plantation cemetery honored at service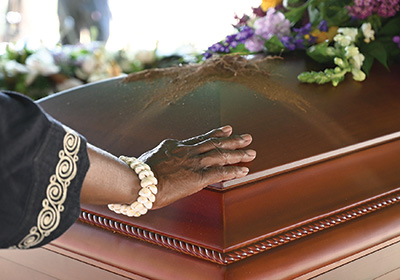 About 150 people gathered to pay their last respects to the unknown individuals from Hagley.
An eagle flew west from the salt marsh before the first people arrived. It dipped low over the cemetery and was gone.
John Henry of Georgetown arrived, carrying a pan-African flag and a walking stick topped by an Egyptian ankh cross. He said he was there for the Gullah people. He lit a stick of incense that he stuck in the ground near the casket. The smoke curled up toward a live oak, catching the light of a hot Sunday afternoon.
It was a symbolic day and a historic day as about 150 people gathered at Holy Cross-Faith Memorial Church to bury the remains of 22 people whose bones were unearthed from the cemetery at Hagley Plantation during construction of a home in 2006. There was evidence that the burial ground around St. Mary's Chapel on the former rice plantation had not been relocated in the 1970s as thought. Only the markers had been removed.
About 300 bones were turned over to the coroner's office in Georgetown County, then to the Richland County coroner's office, where Bill Stevens, a forensic anthropologist who was working on his doctorate at the University of South Carolina, was able to sort them by individuals and determine their age and gender. The evidence showed that they had been enslaved workers on the plantation.
"Enslavement during life followed by disturbance from rest after death is a compounded insult to the dignity of these individuals," Stevens said during the reburial service. "Their bones tell us a story of early death, childhood mortality, bodily injury and disease burdens of malaria, malnutrition, fever and infections such as tuberculosis."
Stevens turned the information over to a graduate student, Kalina Kassadjikova, whom he met through a colleague. She conducted a genetic analysis on 14 individuals, tracing their ancestry to regions in Africa. One has European ancestry, most likely British, Kassadjikova said.
Several people asked about the genetic testing after the service.
"There's a pretty good chance I've got some ancestors in that casket," Joseph Grate, who lives at Pawleys Island, told Stevens and Kassadjikova.
Because DNA deteriorates over time, Kassadjikova explained, it isn't always possible to make a direct match between samples, such as those from Hagley, and modern samples. It's sometimes a matter of luck that the right segment of historic DNA was preserved.
Grate said he wants to do a DNA test.
He left the service with mixed feelings. While he said he understood the efforts made by officials to provide a fitting burial, he pointed out that the individuals who had no choice in how they lived had no choice in what happened after death.
"It still hurts," he said.
Zenobia Harper of Pawleys Island, founder of the Gullah Preservation Society, was among the speakers at the service and echoed Grate's pain in a poem, read in Gullah.
"To the soul that used these bones, I assure you that I know all the labor and knowledge you left behind. I won't accept their continued dehumanization of you. I won't walk around the truth like I am blind," she said. "I pray this is the last time that your bones are moved for other people's desires and progress. I pray that this time, your weary bones find peace and take their final rest."
Clergy from four churches in Pawleys Island and Georgetown joined the Rev. Wil Keith, rector of Holy Cross-Faith Memorial, in the service.
Bishop John Smith, pastor of Greater Bible Way Church in Georgetown, noted that people of all races came from across the county. "This is Georgetown. This is us. We're all together," he said. "As we bury these bones today, help us to bury prejudice. Help us to bury hatred. Help us to bury the past and work together for a better future."