Renourishment project still on track despite weather delays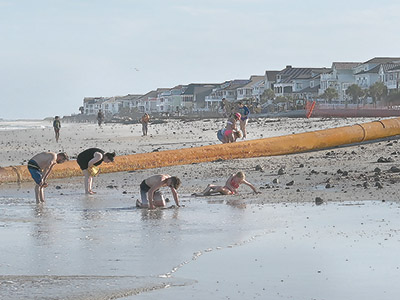 With the dredge out of operation, beachgoers hunt for shells at the edge of the renourishment project.
Although storms, including the first named storm of the Atlantic hurricane season, kept a dredge tucked into Winyah Bay for several days, a beach renourishment project at the south end of Litchfield Beach is on track to be completed by the end of the month, according to the project's engineer.
The Peninsula Property Owners Association received federal and state permits in 2020 to place up to 400,000 cubic yards of offshore sand on about half a mile of beach. The work was supposed to start over the winter, with the contractor, Marinex Construction, first completing a renourishment project at DeBordieu. Both projects were delayed because a Marinex project in Florida was delayed last year.
The Peninsula POA got approval to extend the project past the May 1 start of sea turtle nesting season. Work can now continue until June 30.
"We're still looking to be complete by the end of June," said Steven Traynum, project manager for Coastal Science and Engineering.
The goal of the project is to build up the beach and create a dune in front of 33 lots in the gated community, where waves regularly wash under the houses during storms.
Marinex started work last week in front of Inlet Point South before the weather forced it to move the dredge.
"They're pumping over 20,000 yards a day. I expect that to pick up a little," Traynum said.
The work area will widen as the crew moves south toward Midway Inlet. A Y-valve will allow the dredge to pump continuously without having to stop for the crew to extend the pipe. Work is scheduled to continue around the clock.
"We recognize that it's an inconvenience for those trying to get south to the inlet right now," Traynum said. "They're trying to keep the beach open as much as possible, especially during down time."
As a condition of the extension to the project window, Marinex is monitoring sea turtle activity with the help of the volunteer group SCUTE. They are on the site from 9 p.m. to 6 a.m.
"Every hour, they walk the dredge line looking for crawls," said Rick Scott, who leads the monitors at Litchfield Beach.
SCUTE had recorded 55 nests as of Tuesday, three of those at Litchfield Beach. The closest to the dredging was about 100 yards north of the project, Scott said. Last year, there were about seven nests in that part of Litchfield.
The noise of the equipment is apparently no deterrent. "You would think so," Scott said, but a biologist told him
"we have seen them crawl over the pipe."