Restoration of computer system continues after ransomware found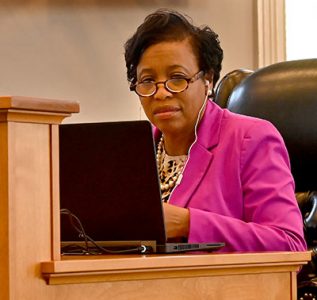 Angela Christian, the county administrator.
Georgetown County is still working to restore its computer system after its network was breached by ransomware last month. The county will need to draw on its cash reserves to upgrade the system and improve security, Administrator Angela Christian said.
"It's made us all realize how important computers and technology are to the way we do business," she told County Council this week. "We certainly need to tighten our security."
The county is rebuilding its system rather than paying a ransom. Once the breach was discovered Jan. 23 by a service that monitors the system, the system was isolated.
"We have a very large system, so we cut off access," Christian said. "Nothing could go in and nothing could go out."
That meant the county could not contact the perpetrators to learn their demands.
"We shut down our system because we don't want to contact them," Christian said.
Staff worked extra hours to meet the Jan. 31 deadline for sending out W-2 tax forms and to send out payroll on Friday to over 800 full and part-time employees.
The breach came a week after the deadline to pay property taxes, but there was another payment deadline this week.
"Taxpayers for the most part have been very understanding," Allison Sippel Peteet, the county treasurer, said.
Her office has some computers running offline to record payments, and payments can still be made online through a third-party service.
"We don't hold any of that information. Those are all secure," Peteet said.
No personal data, either employee or taxpayer, was compromised, according to county officials.
The breach was reported to the State Law Enforcement Division. A firm hired by the county's insurance provider is investigating the source of the breach and working to make sure the ransomware is removed from the system.
"We have over 50 servers, so it's pretty extensive testing that has to be done," Christian said. "You have to clean your system; you have to scrub it clean."
The county has backups of its data, but it can't use them until it knows the extent of the breach.
The greatest impact on public services has been the inability of residents to email the county. While some offices are using alternate email services, most are working by phone. They have also developed work-arounds that don't connect to the county computer system.
"It really speaks to the talented staff that wants to get things done," Christian said.
The team that is investigating the breach will also make recommendations to the county about upgrading the system, she said.