Rezoning tests limits of rural growth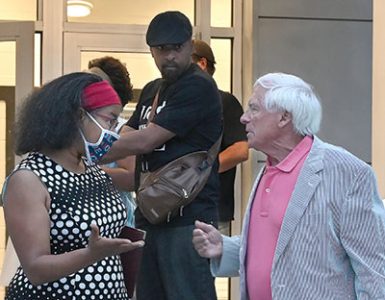 Bob Anderson, who opposed the rezoning, debates affordable housing with Marilyn Hemingway, who supported the change.
A zoning change that could lead to the creation of 90 units of affordable housing outside Georgetown narrowly passed County Council this week, with the chairman saying concerns raised by opponents can be dealt with before a development plan is approved.
"I believe in, instead of concentrating on why it can't be, concentrating on why it can be," Council Chairman Louis Morant said. "It can lead to a better, blended Georgetown County."
The vote will allow multi-family use on 16 acres on Wedgefield Road that are part of a medical "planned development" approved in 2008 to allow construction of a new hospital by Tidelands Health. That project was tied to the proposed Crown Pointe development, which included over 7,700 homes. It was never built.
A development group wants to buy a portion of the hospital site to develop rental units under a program of Low Income Housing Tax Credits administered by the state. It needs the county zoning approval to move forward with its application. It won't find out if it receives the credits until late summer.
The project came up for approval this spring on the heels of a housing needs assessment commissioned by the county. The study showed little rental housing available for households with incomes equal to or below 80 percent of the county average, which is $50,000 a year. That is the threshold for affordable housing.
Most public sector and service sector employees have annual incomes under $40,000, according to the study.
At a series of hearings on the zoning change, speakers acknowledged a need for affordable housing. Residents in Wedgefield and nearby neighborhoods say it needs to be built closer to jobs and services.
Supporters of the project say the opposition is driven by race.
"Our community is not a racist community," Scott Powell, a former state wildlife officer who lives in Wedgefield, told the council this week. "The issue is a safety issue, a traffic issue."
But others said they are concerned about increasing crime and decreasing property values.
Jackie Williams, a Georgetown resident, called that "blatant racism and classism."
Amy Armstrong, head of the S.C. Environmental Law Project, also raised concerns about a conservation easement that had been placed on the property in the 1990s before it was subdivided, then amended in 2008 to allow the sale to Tidelands Health for medical facilities.
Because the property owners get a tax break for conservation easements "you have to go through a judicial proceeding," Armstrong said, to alter them.
Since that wasn't done, she said the easement amounts to a deed restriction on the property. Under state law the county can't approve a project that violates a deed restriction.
Jim Clark, who represented the owners of Weehaw and Mansfield plantations, said they opposed anything that violates the conservation easement. The proposed project is "an abuse of the system," Clark told the council. "I believe you as a council know that it's wrong."
Council members got advice on the easements from the interim county attorney during a closed-door session at the start of the meeting.
Morant, who represents the area, noted that the issue up for approval was not the housing project, but whether multi-family use would be allowed on the 16 acres. Yet in moving for approval, he recalled opposition to the merger of Choppee High School, which was all Black, and Pleasant Hill High, which was 40 percent white, in the mid-1990s.
People said "it would only lead to violence and destruction. Those merged schools have created a centralized blue ribbon school," Morant said.
He was joined by Council Members Steve Goggans, Lillie Jean Johnson and John Thomas in approving the zoning change.
Council Members Bob Anderson and Raymond Newton were opposed. Everett Carolina abstained saying he still had questions about how affordable housing is defined.
Anderson campaigned last year on the need to shift development from Waccamaw Neck to the western part of the county to expand the tax base. But he said he objected to the goals of the housing tax credits, which seek to mix income levels in new developments.
"Don't think this is a racial problem. It's not," Anderson said. "It's social and economic."
Wedgefield and nearby neighborhoods on the Black River have the highest property values in the county outside the Waccamaw Neck, he added.
"It's a social engineering tool," Anderson said of the tax credits. "I've got serious problems with that."
Newton shared that concern, saying it shouldn't be up to bureaucrats in Columbia or Washington to decide where new housing is located.
"We need these developments. We can put them in better locations," Newton said. "We don't have to basically destroy a livelihood of everybody in that area with high-density development, which is what it will lead to."
He added that the county should learn from the mistakes made on the Waccamaw Neck.
"I don't think any of us can blame the development for following the incentive trail that's been drawn out by government," Goggans said. The intended project "is not low-income subsidized housing."
He said the Georgetown area can't support market-rate housing.
Anderson agreed afterward that there has to be some incentive to fuel development outside the Waccamaw Neck because "the biggest obstacle is cost." He favors doing that through relaxing some of the development restrictions, such as the building height limit, in the western part of the county.
"The way I want to go forward is to place residential development in areas where they will be accepted based on socio-economic conditions," Anderson said.
The zoning change requires one more reading by County Council. That is scheduled for May 25. The developer's final application for the tax credits is due May 28.