Rice defends impeachment vote in call with constituents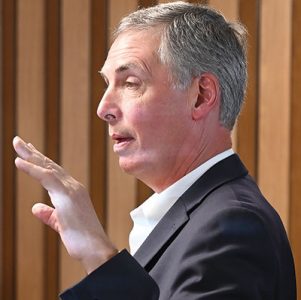 Rice told callers his duty to the Constitution comes before his duty to the president.
President Trump's actions while a mob attacked the Capitol on Jan. 6 disqualified him from serving as president, U.S. Rep. Tom Rice told constituents this week.
The 7th District congressman was one of 10 Republicans who voted for impeachment.
"That attack on the Capitol was timed to occur when we were voting whether or not to accept the Electoral College votes. The purpose of it was to intimidate members of Congress to vote the way the president wanted them to vote," Rice said. "He certainly encouraged the protesters and rioters to come to the Capitol and to confront members of Congress. He said 'nonviolent' but only in ambiguous terms. He said over and over and over again to go and fight like hell."
Rice addressed his impeachment vote during a telephone town hall meeting with constituents on Monday. A handful of people on the call criticized Rice for his vote, but some thanked him.
Rice stood behind his decision.
"That day was a direct attack by the executive branch on the legislative branch and it cannot stand. Any president that does that, I will vote for retribution," Rice said. "People who are fussing about my vote to impeach Donald Trump, if Obama had done the same thing, they would be the first in line to do it."
Rice was expecting trouble on Jan. 6 and told his staff to stay home that day.
"I thought we were going to have Trump supporters and antifa and other folks fighting it out in the streets," Rice said. "I thought we would have riots and buildings burning."
That morning, the police found and detonated a pipe bomb near his apartment building.
"I'd never seen anything like that before," Rice said.
During the debate over the Electoral College, Rice said a Capitol police officer entered the House chambers, said there was a potential security breach and then left.
Five minutes later, the officer came back and said the rioters had breached the building. Senior members of the House, including Speaker Nancy Pelosi, were immediately escorted from the room.
"It was a very serious security breach," Rice said. "That obviously gets your attention."
Rice and his colleagues were told that tear gas had been deployed and they should don the emergency hoods that are kept under their seats.
"Five or six minutes later they started pounding on the door. That was pretty alarming," Rice said. "I was just shocked that they could get that far. I always figured the Capitol was a lot more secure than that. You know that the folks on the other side of that door have pipe bombs and tear gas. You don't know what else they have."
Rice and his colleagues were evacuated to the underground tunnels that lead to the House office buildings. He spent the next few hours watching television, hoping to hear from the president.
"He never held a news conference. He never got in front of the cameras and said 'it's time to stop, this has to stop now and we need to restore calm,' " Rice said. "He never gave a nationwide address like any other president in my entire lifetime would have done."
What most upset Rice was when the president tweeted about Vice President Mike Pence, whom he believed could block the Electoral College vote.
"I don't know if he incited violence when he gave his speech, but when those protesters were searching for the vice president and screaming 'hang Mike Pence,' and the president tweets out that the vice president didn't have the courage to do what he needed him to do, that sure as hell sounds like inciting violence to me," Rice said.
In his eight years in Congress, Rice said he has questioned whether he made the right decision on about 100 votes. The impeachment vote was not one of those.
"Our system is based on debate. Sometimes you win sometimes you lose and you move on," Rice said. "What you don't do is you don't threaten to beat up your opponent. What you don't do is threaten to kill your opponent. What you don't do is say 'if you don't vote my way I'm going to send a mob down there to beat you up.' "
Rice called Trump a "revenge seeker."
"In his four years, I have seen him at work. He cannot let any perceived slight go," Rice said. "I'm positive he is going to come after me. His concern at this point will not be so much on helping the Republican Party as it will be to exact what he deems to be his proper due and I'm afraid it's going to be painful for awhile."
Rice said he is not going to cow-tow to bullies or back down when people threaten him.
"I didn't sign up to protect Donald Trump. I took an oath to protect our Constitution, not to protect Donald Trump's job, not to protect the Republican Party," Rice said. "If you want somebody who's going to stand up for what's right and protect our Constitution like I took an oath to do, then I'm your guy."