Rice defends vote against drilling moratorium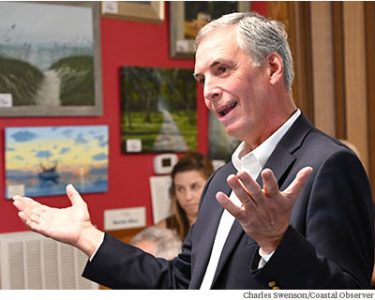 Rep. Tom Rice at the June meeting with constituents in Litchfield.
A bill restoring a moratorium on oil and gas leases that passed the U.S. House last week did so without the support of 7th District Rep. Tom Rice. It's a vote offshore drilling opponents say they will remember.
"It sends a very important message to a majority of his constituents who thought he was on our side," said Peg Howell, a North Litchfield resident who is a leader in the grassroots group Stop Offshore Drilling in the Atlantic. "He's not on our side."
The bill introduced by 1st District Rep. Joe Cunningham, a Charleston Democrat, prohibits the Department of Interior from leasing tracts on the Outer Continental Shelf on both coasts and the Straits of Florida for oil and gas wells. It passed 238-189, with 12 Republicans in support and five Democrats opposed.
Rice joined his four Republican colleagues in voting against the bill. Rep. James Clyburn, the House majority whip, didn't vote.
"I am opposed to offshore drilling and seismic testing in South Carolina and I will continue to support legislation that prohibits these activities off of our coast," Rice said in a statement following the vote. "This legislation goes unreasonably far by instituting a federal government mandated permanent moratorium on offshore development across the country, blatantly disregarding states' established role in this process."
At a constituent meeting in Litchfield in June, Rice said he hadn't signed on to Cunningham's bill, but added "I would support it if it came up."
He went on to tell the gathering that he was working to persuade Rep. David Rouzer in North Carolina and Rep. Buddy Carter in Georgia to oppose offshore drilling.
He also said he met with freshman Rep. William Timmons of Greenville.
"I suspect he'll end up coming with us," Rice said.
All three congressmen joined Rice in opposing the Cunningham bill.
What changed, according to Rice's press secretary, was the bill. Sophie Seid, who also attended the constituent meeting, said Rice was talking about support for a bill that Cunningham introduced in January that called for a 10-year moratorium in the Atlantic, Straits of Florida and part of the eastern Gulf of Mexico, but not the Pacific.
"Same issue, different bills," she said.
"Putting domestic energy resources under lock and key – forever – completely cuts off access to resources we may need, all but ensuring increased reliance on foreign adversaries for oil in the future," Rice said in his statement last week.
Cunningham's first bill was introduced four days after the freshman congressman took office.
"Over the following weeks, and in conversation with folks in the Lowcountry, it became clear to the congressman that a 10-year moratorium would not give coastal communities the certainty they needed," said Rebecca Drago, a spokeswoman for Cunningham.
The bill that passed last week, was introduced in March.
"Congressman Rice did not support this legislation and has never indicated his support for such a bill," Seid said.
"Coastal South Carolinians deserve real solutions to this issue, not legislation so extreme and so flawed that President Trump has already promised a veto," Rice said. "I will continue to work with Gov. McMaster to make South Carolina's case to the administration and advocate for serious policies that grow our economy without putting our coast at risk."
Rice also cited the president's veto threat when talking about the Cunningham bill in June, adding that "it ain't going to go anywhere because it would take a majority of Congress for it to pass."
Passage by the House last week was important, Howell said. "It demonstrated that it was not a coastal issue. It's a national issue."
She also disputed Rice's reference to the economic impact of the moratorium, pointing out that there have been moratoriums in place from 1982 to 2008.
As for the claim on states' rights, Howell noted that the Trump administration has pressed forward with plans to open the Outer Continental Shelf to drilling in spite of objections from the governors of coastal states.
"The states have a say, but they do not have a definitive say, as we all know," Howell said.
On Wednesday, she was in Columbia to receive the Harriett Keyserling Advocacy Award from the Conservation Voters of S.C.
"It's really an award for SODA," Howell said, but it is given to an individual.
McMaster was the speaker at the program.