Rise in local visitors stood out in tough year for state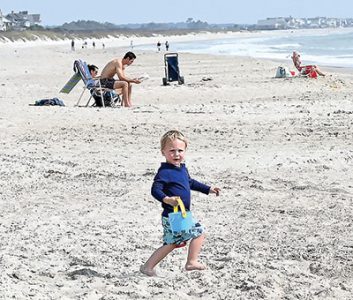 Georgetown was one of four counties that saw an increase in tourism tax revenue.
The COVID-19 pandemic kept people from visiting most of South Carolina in 2020, but not Georgetown County.
While the statewide occupancy rate on short-term rentals was down by 23 percent in the last seven months of 2020, Georgetown County saw an 11.5 percent increase.
"It was great," Will Dieter, an owner of The Dieter Co. said. "What a pleasant surprise during a challenging time."
"The fall actually surprised me," Betsy Altman, owner of Pawleys Island Realty, said. "The fall was good."
Georgetown, Colleton and Beaufort were the only counties in the state to see an increase in accommodations taxes collected in 2020, according to the state Department of Parks, Recreation and Tourism. The money comes from a 2 percent state tax on short-term rentals. It is returned to counties for tourism-related projects and expenses.
Ninety-eight percent of the people who canceled their reservations with Pawleys Island Realty because of the pandemic rescheduled for another time, Altman said. Agents will reach out to those who didn't rebook at the end of this year to see if they have plans for 2022.
"Hopefully they'll come back and miss one year only," Altman said.
"We did that with Hugo," she added, referring to the 1989 hurricane.
Dieter said he didn't see a lot of people from the Northeast or the usual influx of snowbirds from Canada.
"We were able to replace those lost rentals with new ones," he added.
Georgetown was one of only four counties to see an increase in the state's 5 percent admissions tax, collected by golf courses and attractions such as Brookgreen Gardens. Georgetown's collections were up 19 percent from 2019. In December, the collections were up 37 percent over 2019.
Golf was 92 percent of the county's admissions tax in 2020, and collections in October were 88 percent more than in October 2019.
Dieter said the drop-off in demand for rentals that usually happens after Labor Day didn't occur in 2020. In fact, some homeowners had the best rental years they've ever had.
"In the fall they more than made up for what they missed for that six weeks in the spring," Dieter said. "That was great."
Altman attributes the ongoing demand in the fall to people who had been locked down because of the pandemic and they need to get out of their homes.
Both Altman and Dieter are excited for 2021.
"It was a stressful year last year. I think this year we're a little more prepared for it," Altman said. "We're doing everything we can so we'll have as few issues as possible in the summer. It looks like it's going to be a really good year."
"We hope that these positive trends will continue and become normal as opposed to a little blip on the long, long radar," Dieter said. "I think the road looks pretty good for us now heading into the future."