Rise in virus cases follows high school graduation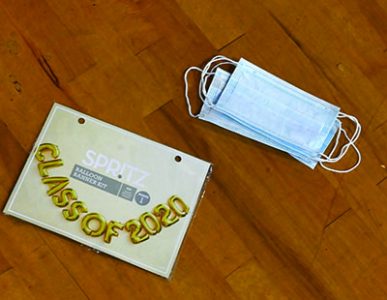 Spare masks and a graduation banner on the gym floor at Waccamaw High.
For a parent of a high school senior, it was a hard request to turn down.
"I don't want to miss every single graduation event," the child said.
The child had stayed at home since the governor ordered schools closed in March to help stop the spread of the coronavirus. Now there was a pool party, outside, to celebrate the Waccamaw High class of 2020.
"I guess you could say we let our guard down," the parent said.
The child tested positive for COVID-19 this week.
It was one of more than 50 cases in the Pawleys Island area that have been confirmed by the state Department of Health and Environmental Control in less than a month. Many of those cases have been tied to the Waccamaw High graduation on June 4 and related events. Those can't be confirmed because DHEC doesn't report demographic data by county, according to a spokeswoman for the state Emergency Response Team.
Tidelands Health, which is working with DHEC to conduct tests in the region, reported Thursday that those tests show a higher rate of COVID-19 among people age 16 to 25. Of the 500 it tested, 16 percent were positive. Tidelands has conducted close to 5,000 free tests. Another is scheduled Friday at Inlet Square Mall from 9 a.m. to 5 p.m. or until testing supplies run out.
"It's concerning that such a high percentage of younger people are testing positive for the virus," said Dr. Gerald Harmon, vice president for medical affairs at Tidelands. "Although young people are at a lower risk for serious complications from COVID-19, they certainly aren't immune and can easily spread the disease to people at higher risk, which can include co-workers and family members."
Alan Walters, the safety director for the Georgetown County School District, doesn't think the Waccamaw High graduation exercise itself was the source of the virus.
"I think that anybody that goes on social media can figure out what happened," he said. "If you look at the ones that tested positive, it was a day or two after graduation. You don't do it that fast."
The parent of one graduate, who spoke on the condition that his name not be used to protect his child's privacy, said that there was contact at graduation and events afterward. Students were required to wear masks before the ceremony as they gathered in the gym, where they were each assigned a place to stand 6 feet apart. The masks came off as students used the time to take selfies with their friends.
Masks were seldom worn after the ceremony as students and families gathered at the front of the school for more photos.
But the Waccamaw parent thinks the graduation party that followed was the most likely point of contact for his child.
"It's unfortunate, but these are the kind of events we have all heard about," he said. "We should have known better."
His child was tested after hearing from several friends who tested positive for COVID-19.
A contact tracer from DHEC called after his child received a positive test result. The tracer asked about siblings, symptoms and work.
The only way the district would find out about contacts at graduation would be from DHEC, Walters said. And if it did get that information, the district wouldn't be able to share it due to federal law, he added.
"During these confidential over-the-phone interviews, we also work to identify any close contacts to the individual who tested positive, and we reach out to those close contacts over the phone as well to make any necessary recommendations for protecting themselves," the DHEC spokeswoman, Laura Renwick, said.
"A close contact for COVID-19 is generally someone who was six feet or closer to an infected individual for at least 15 consecutive minutes," she added.
The Waccamaw parent said word of positive tests among students spread by social media. "Most seem to be asymptomatic," he said.
The parent said it would help if people were more open about the virus test results.
"A lot of parents are treating this like a stigma," the Waccamaw parent said. "Like, 'my child has lice.' "
As of Wednesday, Georgetown County had 202 confirmed cases of COVID-19 since the start of the pandemic, according to DHEC. There were 94 confirmed cases reported in the last week, with 22 of those reported Wednesday.
"There needs to be some behavioral change," the Waccamaw parent said. "We're a hot spot in a state that's now a hot spot."