Rising costs keep I2I project 1,400 feet short of destination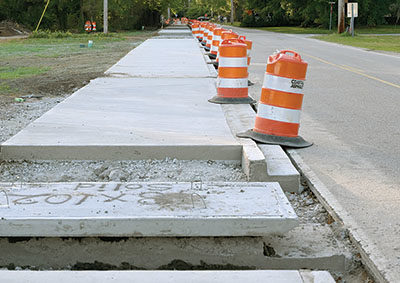 Curbs and drainage work raised the cost of the Inlet to Intracoastal path.
The first phase of the Inlet to Intracoastal path through Murrells Inlet will stop 1,400 feet and about $114,000 short of its goal.
The project, known as I2I, is a partnership between the Murrells Inlet 2020 revitalization group, Tidelands Health and Georgetown County. The first phase was due to run from Business 17 west on Macklen Avenue, around the Tidelands medical campus on Bypass 17 then cross the highway by Waccamaw Community Hospital. It was due to end up at the county-owned Wachesaw Park.
But the $219,000 earmarked by the county and $500,000 by Tidelands Health were not enough to fund the project when the state Department of Transportation required curbing and drainage work.
"The whole cost inflation with this has to do with drainage," said Jeff Ciuba, an organizer of the project with Murrells Inlet 2020. "If we didn't have to do the raised curb, it's a whole different story."
The County Transportation Committee approved an extra $250,000 for the work last year. In April, the committee approved another $65,000 for improvements to the intersection at Riverwood Drive and Bypass 17. DOT required a separate traffic safety study for the highway crossing, Ciuba said. That cost $8,500.
The path will end at the corner of Riverwood Drive and Kings River Road without additional funds. State Sen. Stephen Goldfinch and Rep. Lee Hewitt have asked Georgetown County Water and Sewer District to fund the $114,305 cost of running the path to Wachesaw Park as part of a water main upgrade along Old Kings Highway.
"We understand that this is a big request, but this is the greatest project for Murrells Inlet since the construction of the Marshwalk," the legislators wrote.
The water district board is due to take up the issue today. Staff is not recommending approval.
"They were really nice," Ciuba said after meeting with district staff. But they explained that the way rates and fees are structured for capital projects doesn't allow add-ons like a bike path.
The same contractor is doing the path and the water line and planned the work so the projects won't conflict. "After they made arrangements to do that, it came up that we didn't have the money to finish" the path, Ciuba said.
If the utility board doesn't approve the funds, organizers will try to raise additional private donations. If those aren't enough, they will apply for a state Parks, Recreation and Tourism grant, Ciuba said.