Riverkeeper returns home as steward for two waterways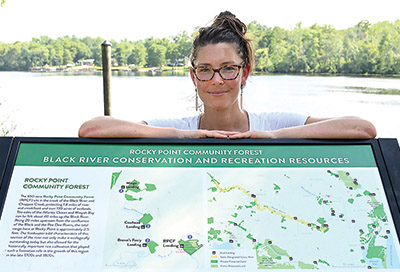 Erin Donmoyer is the Black/Sampit Riverkeeper.
Erin Donmoyer needs a bigger boat.
She has a kayak, but that isn't practical for her new job as the Riverkeeper for the Black and Sampit rivers.
"There was talk of a potential Jet Ski donation," Donmoyer said. "It'd be a sight to see."
She was hired in March by the Winyah Rivers Alliance, which hired the Waccamaw Riverkeeper in 2002. It was always a goal of the nonprofit alliance to have a Riverkeeper for each of the rivers that empty into Winyah Bay. It hired a Riverkeeper for the Lumber River, which joins the Little Pee Dee, in 2018.
The Black-Sampit Riverkeeper program was approved last month by the Waterkeeper Alliance, a national organization that campaigns for clean water.
The 151-mile-long Black River is the focus of an effort to create a new state park that would encompass about 40 miles from Kingstree in Williamsburg County to the Rocky Point Community Forest in the Choppee community of Georgetown County. The Winyah Rivers Alliance and the county own tracts totaling 650 acres at Rocky Point.
"They're calling it the anchor point," Donmoyer said.
Over the next year, she will help create plans for the Rocky Point property, which now has a boat and kayak launch ramp and some concrete picnic tables on a bluff overlooking the Black River.
"There are some neat plans that we have here in terms of the trail systems and remote camping sites along the river bank, where it's just paddle-up camping," Donmoyer said.
She would like to see fishing platforms along the river, since people now fish and swim from the boat dock, which they aren't supposed to do.
There is the potential for the state park to bring tourism to the rural areas of Georgetown and Williamsburg counties, which will help the local economy and create additional advocates for protecting the river.
"I also hope it results in some of the rural local communities coming out to utilize it more and learn more about their backyard," Donmoyer said. "There's kind of a lack of that in a lot of the rural communities."
Until she was 6, she lived in one of those communities, Williams Hill in the northwest corner of the county. Her family moved to Lexington, "but I regularly came back here to the family farm," Donmoyer said.
When she was in high school, her family moved again, to a small town outside Anchorage, Alaska.
"I was very much not an outdoor explorer when I moved there," she said. "But I became a very outdoorsy Alaska person in my time there, 17 years total."
Donmoyer earned undergraduate degrees in environmental science and marine biology from Alaska Pacific University. She then went to work for a consulting firm, doing habitat assessments and permitting.
"I was the company botanist," she said.
She moved to Vermont in 2016 with her partner at the time, who had a job as a wetland scientist for the state. "We started a farm and a bed and breakfast," Donmoyer said. "I ran both of those."
The farm raised cut flowers in two large greenhouses and sold them wholesale in the Boston area. As a way to maintain her connection to South Carolina, Donmoyer also grew figs.
When the relationship ended, they sold the farm and Donmoyer moved back to Georgetown County to help manage the family farm, about 300 acres on the Great Pee Dee that was once planted in tobacco, but is now planted in pines. There is longleaf for conservation and loblolly for timber.
"That plan was put in place before I was managing it. I would rather not participate in the timber industry really," Donmoyer said. "Maybe if it was selective logging here and there, but I'm not a fan of clear-cutting."
The job with Winyah Rivers was a change to fulfill a goal she had since college of working strictly in conservation. "Those jobs are highly sought after in Alaska, and I had tried, but never succeeded," she said. "A conservation job with rivers and protecting the swamps that I grew up exploring and loved just seemed kind of like kismet."
Since starting, Donmoyer's priority has been to gather water quality data on the two rivers.
"Historically, there were some sampling sites done on the Black, but in the absence of someone to run the program it had gotten kind of spotty," she said. "And there wasn't much monitoring going on on the Sampit."
So far, she hasn't seen anything out of the ordinary on the Black.
The Sampit River is only 10 miles long, starting in a swamp just west of Highway 17-A and flowing east through the Georgetown harbor to the bay. Donmoyer was surprised to find the salinity near the river's headwaters was 2 parts per thousand. Seawater is about 35 parts per thousand.
Her first thought was that water being drawn from the river for industrial uses was causing saltwater intrusion. A researcher at Clemson University's Baruch Institute told her it was likely the result of sea level rise.
"That was a relief to hear," Donmoyer said.
The Sampit is approved by the state for discharges from 3V Chemical, International Paper, Santee Cooper, Liberty Steel and the city of Georgetown's wastewater treatment plan. Georgetown County is developing an industrial park on about 950 acres along the river.
"The public focus seems to be mostly on the Black, but my heart's with the Sampit. That's what I'm excited to dig into," Donmoyer said.