Road to the altar isn't smooth in troupe's new production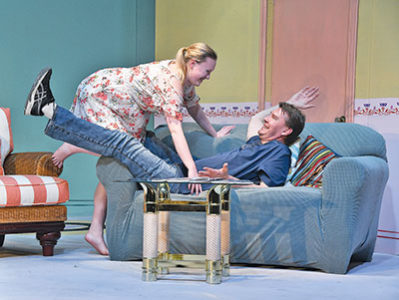 Julia Hooks and Michael Caldwell rehearse a scene.
The Swamp Fox Players are tackling farce in their latest production, "Sandy Toes and Salty Kisses," which opens next week.
The play was written by the husband-and-wife team of Michael and Susan Parker in 2018. It has become so popular so quickly that the Swamp Fox production is one of nine scheduled between March and October of this year.
"We actually have it on preview still," said director Lee Padgett.
The play is set in a beach hotel on the Gulf of Mexico, which is about to host the wedding of a New England heiress whose mother does not approve of the marriage or the venue.
When Madame CoCo, the hotel's wedding planner, elopes and disappears, Uncle Bubba the handyman slips into one of her dresses and adds her duties to his own. Other characters include a not-so-smart receptionist and a travel writer mistaken for a federal agent.
The mother of bride bribes the receptionist to flirt with the bridegroom. The receptionist mistakes the travel writer for the groom and falls in love with him. While all that is going on, the future husband and wife break up and make up several times. Several people get slapped.
"It's just your typical slapstick type comedy, borderline on the absurd," Padgett said.
Padgett directed another play by the Parkers, "The Sensual Senator."
"Their stuff is good, our audiences love it," Padgett said. "People love odd humor."
One of the challenges Padgett discovered was finding furniture that was not too shabby and could withstand the physicality of the performances. An upside, however, was that all the scenes occur in the same room so there are no set changes.
"That was one reason I chose the play," Padgett said.
One week before opening night, Padgett is still tweaking some of the action sequences and making sure all the special effects, like the face slaps, are coordinated.
"That has to be timed perfectly," Padgett said.
The play features two Swamp Fox newcomers: Tony Talley as Uncle Bubba/Madame CoCo and Michael Caldwell as Douglas DuPont, the travel writer.
When Caldwell was growing up in Mississippi his mother was involved in community theater. He and his wife recently moved to Georgetown from California and opened Indigo Bakery across Front Street from the Strand Theater, home of the Swamp Fox Players.
"I always liked the idea [of acting] and now I had the time and access," Caldwell said. "It seemed like a really fun script."
Caldwell has attended every single Swamp Fox production since he moved here last year, but has not performed on stage since he was in college in the mid-1990s. He said he is enjoying getting to know, and working with, the other actors.
"They're just a good fun group of people," Caldwell said.
He expects to be very nervous on opening night.
"It's been a long time," he said. "I'm not exactly sure how I'll act."
Julia Hooks portrays Traci Rutherford-Smythe, the bride-to-be. This is her first experience with slapstick comedy.
"It's very physical," Hooks said. "It's so different than anything I've ever done. It's been a lot of fun."
Hooks likes to portray characters different than herself.
Traci "is kind of like a spoiled socialite, used to getting everything she wants," Hooks said. "I like to think that I'm not super-spoiled. I'm more down to earth."
If you go
What: Swamp Fox Players production of "Sandy Toes & Salty Kisses"
When: May 23-25 and 30-31, June 1 at 8 p.m.; and May 26 and June 2 at 2:30 p.m.
Where: Strand Theater, Georgetown.
How much: $18. Call 843-527-2924 for tickets.