Royal Farms pulls contract for gas station site in Litchfield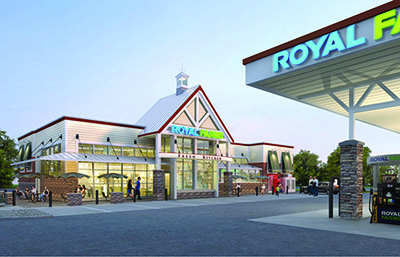 A rendering shows the standard design for Royal Farms stores.
A Maryland-based company has pulled out of a deal to buy property on Highway 17 in Litchfield for a convenience store and gas station.
Jimmy Smith, whose real estate company has the listing, said he was told by the property owner Wednesday that Royal Farms had withdrawn its contract.
The company faced stiff opposition from area residents, who raised concerns about a 24/7 gas station's impact on the environment, traffic and the area's quality of life. They filed requests with the state Department of Health and Environmental Control for a public hearing on Royal Farms' request for stormwater permits for the project. A hearing was scheduled for May 1.
"I was speechless," said Jackie Harris, president of the Hidden Oaks Homeowners Association, when she learned of Royal Farms' decision.
The association led the opposition after it was presented with plans last October for a 5,154-square-foot store with 16 gas pumps at the intersection of Highway 17 and Ford Road. The 2.8-acres site was once owned by Portrait Homes, which developed Hidden Oaks, and the association had the ability to approve some aspects of the plan. But the property is zoned for commercial use, so there was no public hearing required by Georgetown County if the plans met the zoning and development regulations.
The opponents have held a series of community meetings that packed the Waccamaw Library auditorium to discuss strategies for convincing Royal Farms to look elsewhere.
"That's what we were after," Harris said. "People have worked so hard on this."
They sent a box containing letters and petitions to the CEO of Royal Farms at his office in Baltimore. It weighed 6 pounds, Harris said.
Before getting word that the contract to purchase the site had been withdrawn, Harris said she was working to organize speakers and topics for the May 1 hearing. Others were working on issues surrounding road improvements that the store would require.
Harris said the opponents to Royal Farms don't oppose development on the property, but they want something that is compatible with the neighborhood.
Over the years, Smith said he's had a variety of people interested in the property, "lawyers, doctors, CPAs, people wanting to build professional offices."