Rural schools narrow topics for magnet program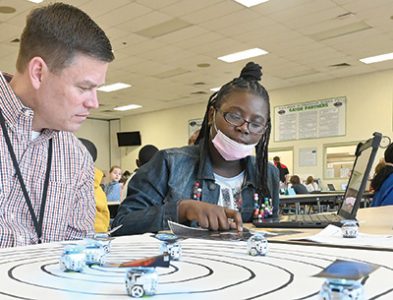 Kylee Singleton, a student at Plantersville Elementary, shows a science project to Superintendent Keith Price. The school could become a magnet for digital programs.
The Georgetown County School District is continuing to plan for magnet schools, even as it waits to learn whether it will get a federal grant to fund the program.
"If we are successful with this application, this program will allow us to bring some really, really unique opportunities to to our students that otherwise they may not have," Superintendent Keith Price said. "This gives us a really awesome opportunity to do some really unique things for the students in this area. We're really excited about it."
If the district moves forward with the plan, there would be elementary schools for creative and performing arts, digital immersion and STREAM (science, technology, reading, engineering, arts and math; a middle school STEAM academy; and an early college and career high school.
The district applied for a grant from the U.S. Department of Education for the program, called Pathways to Success. The grant would be up to $15 million over five years.
"Our team will be working to build a sustainability plan along the way so that when the federal funds end, the magnet programs will not," Price said.
The goals of the program are: increase enrollment; reduce "minority isolation" and help attract a more diverse and balanced student population; reduce the "opportunity gap" by bringing unique programs and opportunities that otherwise might not exist at the schools; and focus on academic achievement.
The district picked the Carvers Bay schools because they have the smallest population (1,162 students) and the highest poverty rate (85.8 percent) of the district's four attendance areas. Also, 65 percent of Carvers Bay students are Black.
"This magnet program will help bring more opportunities to these small schools that our students otherwise might not be able to experience," Price said.
The first step in designing the program was for the principals at the five schools to work with staff members, parents and community members to come up with themes and a focus for their school.
"They have really stepped up and led the charge with their faculty and their community to brainstorm and to dream," Price said. "What I've learned through this process is we have a lot of passionate, invested educators who want the absolute best for their students. That includes our community members, who want the absolute best for our students."
Brown's Ferry Elementary would become a creative and performing arts school with nine-week units of dance, media arts and music exploration.
Students would work with guest artists-in-residence and dance and strings instructors; have access to an iMac lab to learn about keyboarding, coding and graphic design; and take field trips to colleges and performing arts venues to see music and dance shows.
"All this will afford our children more opportunities and they'll actually be able to see, do and experience more," principal Tawanna Grant said.
Classes at Plantersville Elementary would be centered around digital immersion, which is the merger of the physical and digital worlds through virtual reality, augmented reality, mixed reality and extended reality.
All students would have the chance to learn coding and games skills, and lessons in computer operations would start in kindergarten.
Carvers Bay Middle would become a STEAM (science, technology, engineering, arts, math) academy with the motto of "imagine, inquire, invent, inspire."
"Teachers have a daunting task ahead of them because today's child is much different from children 10 years ago, from children 20 years ago, even five years ago," principal Lee Glover said. "We have to compete with so much, and the way I see it this magnet program and these different things, is the connection."
Pleasant Hill Elementary would also focus on STEAM, but add reading and become a STREAM academy. For science, the emphasis would be on the environment, including outdoor classrooms, beehives and a greenhouse. The technology curriculum would include robotics and broadcasting, and math studies would be hands-on.
"We wanted to do something that made sense for our students," principal Teddy Graham said. "Looking at the total picture for what we envisioned for Carvers Bay High School, how does Pleasant Hill fit into that picture?"
Price agreed.
"While our three elementary magnets would be unique, you will see that we have worked to design a continuum where [students] can pursue their interests into middle and high school that they began in elementary," he said.
Carvers Bay Early College and Career High School would be similar to Whale Branch Early College High School in Beaufort County. Students would have the opportunity to earn associate's degrees before they graduated. There would also be an emphasis on STEM and performing and visual arts, and enhanced culinary and agricultural science programs.
Principal Larry Odom said the school would like to add a mobile kitchen trailer to help feed people.
"We felt as though that would be a big asset to the community because there are not many restaurants in the Carvers Bay area," he added.
"If we can get our students to dream big, the way our principals and our teachers and our counselors and our parents have been doing through this process, then providing them with these opportunities is going to open up so many more windows, and they will have the choice to select their pathway," Price said. "Our challenge is then to equip them to be successful in it."
The magnet school program also includes partnerships with Francis Marion University and Voorhees College to help the district have a more diverse workforce.
The school board approved a letter of support for the program in April to be included in the USDE application.
In the letter, the board said it believes the program will "help Georgetown reach full unitary status and achieve the goals of our Desegregation Order, specifically in the areas of student assignment and teacher assignment."
The district has been under a consent decree stemming from court-ordered desegregation in the 1970s. The decree was signed in 1997 after the Department of Justice claimed that the district had failed to abide by the terms of earlier court orders.
Under the decree, each district school is required to have a staff whose racial mix is within 10 percent of the racial mix in the county as a whole. The decree also restricts student transfers and requires that educational opportunities for students at predominantly Black elementary schools – Browns Ferry, Sampit and Plantersville – and the Carvers Bay schools "are unsurpassed in the district."
"We have been making multiple efforts throughout the years to address that," Price said. "The grant was created to help school districts like ours address this."
The district already filed a motion in federal court to start the program if the grant is approved, and Price said the DOJ has indicated it would not oppose the application.
An answer on the district's application is expected in September. If approved, the magnet schools program would start with the 2023-24 school year.
Students from across the district will be able to enroll in the magnet schools.