Sailor's night out ends on a lee shore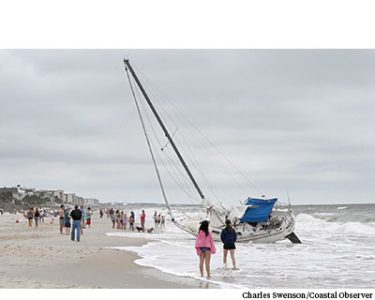 The 30-foot sailboat came ashore after its anchor line broke, the captain said.
A weekend cruise from Georgetown to Murrells Inlet ended abruptly at Litchfield on Memorial Day.
The 30-foot Catalina sailboat Grundoon came ashore just south of the Litchfield Inn around 2 a.m., said Joshua Powers, the owner. He lives aboard the boat in Georgetown.
Powers and a friend were sailing to Murrells Inlet on Sunday. They anchored on a shoal about 150 yards off the beach and swam ashore to the inn for drinks. They were back on board around 8:30 p.m., Powers said.
"We were just coming out here for a day or two," he said. "Sometimes I go to a place for a day and end up staying a month or two months."
It was an east wind that developed into Tropical Storm Bertha on Wednesday that extended his stay at Litchfield.
The anchor line chafed as the boat rocked in the surf.
"We were watching last night," a bystander told Powers. "It was bobbing like a cork."
Around 1 or 2 a.m., the line broke. Powers said he awoke to find the boat in the surf. He threw out a spare anchor to keep the boat from drifting farther up on the beach as the tide rose.
Powers called a towing service, which quoted him a price of $5,000 to get the boat afloat. "I might even try to do it myself if the weather gets right," he said.