Sales tax project list far exceeds revenue estimates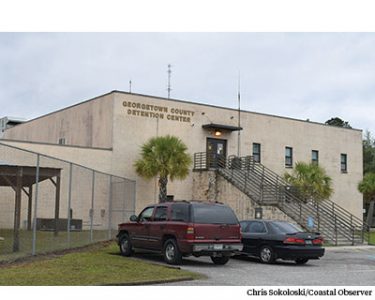 At $40 million, a new jail is the most expensive item on the list of proposed projects.
Members of a county sales tax commission are reviewing the details of 81 capital projects worth over $238 million for a November referendum that is expected to contain about $90 million in projects to be completed over eight years.
And the five-member commission will solicit additional projects through April 24.
The three highest-priced projects on the list alone would exceed the estimated revenue: a new county jail at $40 million; local road paving projects on the state Department of Transportation's master list at $29.9 million; and a dredging and reconfiguration of Georgetown's inner harbor at $26.3 million.
Georgetown County Council agreed to put new one-cent tax before the voters as a way to fund all its capital projects, freeing up other funds for operations.
Voters approved a capital projects sales tax in 2014 to fund $28.2 million in projects over four years. It raised almost $11 more than estimated and a $6 million harbor dredging project was scrapped. The surplus from the previous tax, which expired last year, has yet to be allocated.
Two commission members, Nate Fata and Craig Lieberman, represent the Waccamaw Neck. Kenny Johnson represents the rural areas of the county. Hank Tiller and Talisha McCants represent the city of Georgetown. Denisha McClary, who chairs the commission, represents the town of Andrews. They are charged with soliciting projects in their communities, making sure they qualify and gauging their priority.
"All projects should come through one of the commission members," said Bill Tomes, a consultant who is aiding the commission.
The list of projects doubled following the commission's first meeting two weeks ago. Several were added by community groups. Three were added by Leona Miller, a candidate in County Council District 3. Those included a recreation center and a sewer project that don't have cost estimates.
State law specifies seven broad categories of projects eligible for funding: roads and bridges, public facilities, cultural facilities, water and sewer, stormwater, beach renourishment and dredging.
Projects proposed for the Waccamaw Neck include beach renourishment at Garden City ($7.8 million), Litchfield ($13.9 million) and Pawleys Island ($15 million). A master plan for dredging Murrels Inlet ($15 million) is on the list. So is a parking garage on the waterfront ($9.5 million).
Bike path extensions, boat landing improvements are also on the list along with a dog park, a skate park and more tennis courts.
Here is the current list of projects: capitalprojects.
If you want to propose a project, there are forms at gtcounty.org.