Santa's helpers finish the season with no toys in the shop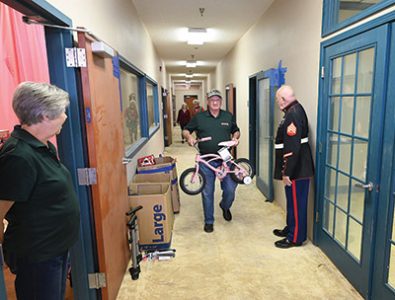 Bob Lepore carries a bike to the door for a Toys for Tots family.
Of the 10,423 toys collected this year for Toys for Tots in Georgetown County a couple stood out. Vaylon Myers will get one of them on Christmas morning.
Jerry Goodrich knew it was special and tried to find the right time to put it on display. He and his wife, Denise, are in charge of the "toy store" that opens for two days each year in a vacant corner of a shopping center in Georgetown.
They remembered another special toy, a very large stuffed animal, and the look on a mother's face when they pointed it out to her.
"Her eyes got this wide," Denise said, holding up her hands for emphasis.
"Everyone who comes here has a need," Jerry said, and they don't play favorites.
In fact, their goal is to see that the last person who visits the store has just as good a selection of toys as the first person. They received 52 donations of bicycles this year. Those are always popular, so they put out 26 each day the toy store was open, and not all of those bikes at the same time.
Set aside with the bikes was an XR-250 ATV, a battery-powered ride-on toy for ages 3 and older. Toys for Tots allows families to select a combination of toys from two categories, major and minor. They also allow families to pick up a stuffed animal and a ball of some sort – football, basketball or soccer ball – that don't count against their quota. Families are also encouraged to take a children's book. The XR-250 qualified as a super-major.
Don Corinna, the local organizer for the Marine Toys for Tots Foundation for the last 15 years, saw Jerry Goodrich maneuver the 30-pound box into the hallway. He remembered that it was a donation from the VFW post in Murrells Inlet.
Goodrich didn't think it would stay on the floor long. He was right.
Ronald Myers, who lives in the Pee Dee community in western Georgetown County, saw the ATV and thought of Vaylon, his 4-year-old grandson. Myers said he and his wife are raising Vaylon and his six siblings.
"He's been asking for one. He asks all the time," Myers said.
His surgical mask couldn't hide the smile as he thought about his grandson's reaction on Christmas morning.
"He's very active. He loves to play out in the yard," Myers said.
He also picked up toys for his other grandchildren. The youngest is 2; the oldest 14.
The toys are displayed by age group, each with a room to itself where families and volunteer shopping assistants go one pair at a time as part of the pandemic protocol. The Salvation Army and churches around the county work with Toys for Tots to find families in need. This year, Corinna estimated that about 1,500 children received toys, an increase from last year.
"This is a fun time," said Len Fitch, who was in charge of the infant to age 2 collection. He tries to encourage parents to take educational toys.
In the 12-14 room, headphones and bluetooth speakers were popular, along with makeup, said Linda Evans. But people were also picking up science kits. "Almost everyone's getting one of these," she added.
When Myers reached the door with bags of toys for his grandkids, Goodrich had the ATV waiting for him. Teens from the AMI Kids program helped Myers load them in his SUV.
"This is the first time in 15 years that I have zero toys left," Corinna said. "It's a wonderful feeling."