Saving the rarest for last, sea turtle season ends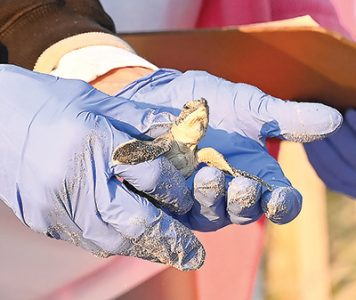 Mary Schneider holds a green sea turtle as it stretches toward the morning sun.
There were only three green sea turtle nests on the South Carolina coast this year, and Pawleys Island had one of them.
Volunteers with the Pawleys chapter of the S.C. United Turtle Enthusiasts closed out their 2020 season on Saturday with an inventory of the green nest.
"The hatchlings are cute," said Mary Schneider, head of the chapter. "Loggerheads are just brown all over. The greens are dark on top and white on the bottom. Their little flippers look like they've walked in paint because they're white around the edges."
Of the 131 eggs, 110 had hatched, nine didn't develop, five hatchlings were excavated and released and two hatchlings did not survive. There were also five eggs that had not hatched. They were reburied.
Loggerheads stopped nesting on Pawleys at the end of July, but the green arrived Aug. 8.
Green sea turtles have longer flippers than loggerheads and therefore throw sand farther when digging. So the nests are very distinctive.
"It was a thrill, an absolute thrill," Schneider said. "When I walked up and saw that crawl, I knew immediately it was a green. They make such a big mess."
Schneider has been volunteering with the chapter for 26 years and it was only the fourth green nest on the island during that time.
The green was the highlight of an otherwise "mediocre" season, Schneider said. After 39 nests last year, there were only 14 this year.
"We had such an amazing season last year, I knew it wasn't going to be like that because turtles nest every two or three years," Schneider said. "Our expectations cannot be for 30-plus nests every season."
The DeBordieu/Hobcaw chapter of SCUTE also closed out its season this week with inventories of the last of its 75 nests.
"It was lower results than we would have liked to have seen," said Betsy Brabson, head of the chapter.
For the first time in seven years DeBordieu/Hobcaw SCUTE had an infertile nest, which means none of the 111 eggs produced hatchlings.
Volunteers "dug in and started seeing brown eggs," Brabson said. "That's when they realized that none of them had hatched."
One egg was still sent the state Department of Natural Resources which documents and tracks turtle DNA, to see if the turtle had nested in the past.
"This just shows the wonderful aspects of collecting these eggs. The volunteers hated it at first but the information we get is so amazing," Brabson said. "We know these turtles."
DNR, which oversees sea turtle nesting and SCUTE volunteers, did not allow inventories to be public this year because of the COVID-19 pandemic. In the past, inventories have attracted dozens of people all crowded into a small area.
Schneider said it was a lost opportunity to educate people about protecting sea turtles.
"Our major responsibilities is to protect the sea turtles," Schneider said. "How we also protect the sea turtles is to let people know what they can do to help the sea turtles. That's the education we would do at inventories."
DeBordieu's SCUTE volunteers hosted a virtual 5K fundraiser this month for the Sea Turtle Care Center at the S.C. Aquarium. It raised $5,500.
Brabson said the care center had to cut its staff by 25 percent when the aquarium closed during the pandemic, which raised the possibility that it wouldn't be able to help stranded or sick turtles.
"It's a great facility and now it's the centerpiece of the aquarium," Brabson said. "The thought of a turtle out there that we just had to leave to die would kill us all."
The aquarium is trying to raise $1.6 million by March, the beginning of the 2021 sea turtle season.
The state recorded 5,559 nests this year. Cape Island near the Cape Romain National Wildlife Refuge had the most with 1,125.
"Overall for the state, it was one of our better seasons," Brabson said.
Huntington Beach State Park had 23 nests, North Litchfield had five and Litchfield by the Sea had two.
Last year, was a record-setting year in South Carolina for sea turtle nests with 8,797.