School board approves $1.3 million in employee bonuses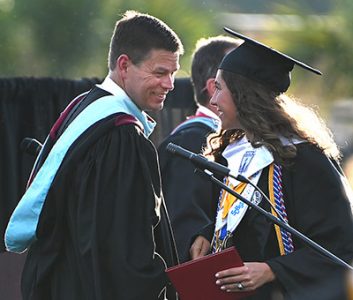 Superintendent Keith Price got a raise and a contract extension.
The Georgetown County School District had a nearly $2 million budget surplus at the end of the 2019-20 school year. The school board decided this week to spend more than half of that on bonuses for employees.
Approximately 1,300 full-time employees will receive $750 each. Nearly 200 part-time and temporary employees who have worked at least 75 hours between July 1 and Oct. 1 will get $350 each.
The extra pay, which the district is calling "hard work" bonuses, will be distributed on Oct. 29. Superintendent Keith Price told the board that the district adopted the motto "hard work pays off" at the beginning of the school year.
Part-time and temporary employees who fall short of the required hours will have until Dec. 1 to reach 75. Bonuses for them will be paid on Dec. 15.
The payout for the bonuses will be around $1.3 million.
The board also approved bonuses for employees who have gotten the COVID-19 vaccine. It's the district's way to encourage unvaccinated employees to get the shots.
Vaccination bonuses are $250 for full-time employees and $150 for part-time and temporary employees.
In order to be eligible, employees have to be vaccinated or get the shots before Nov. 12 and then submit a copy of their vaccination card to the district.
The bonuses will be paid for using money from the Elementary and Secondary School Emergency Relief Fund (ESSER) passed by Congress.
Substitute teachers, who are provided by Kelly Services, will get a $100 bonus. That money will likely come from the district's fund balance since ESSER funds cannot be used for third-party contractors.
"We didn't want to leave those employees out," Price said. "Even though [they're] technically not our employees, they have provided a tremendous service to us and we need them in order to keep our schools operating as effectively as possible."
The vaccination bonuses will be distributed before winter break, which starts on Dec. 20.
As of Wednesday, there were 71 students and 14 staff members who had tested positive for COVID-19, and 461 students and 14 staff members who were in quarantine.
Andrews Elementary had the most students who had tested positive with 14 and the most students in quarantine with 111.
The school board unanimously approved a resolution calling on the state legislature to repeal the budget proviso forbidding school districts from enacting or enforcing a mask mandate, or even talking about a mandate.
According to the resolution, 504 students and staff members in the district have tested positive for COVID-19 since the start of the school year, and 3,524 students and staff members have been in quarantine.
Some students, including members of the Waccamaw High School football, have been in quarantine multiple times.
School Board Chairman Jim Dumm said the S.C. School Boards Association asked every local board to pass a similar resolution.
Update: This article has been corrected from the print version to reflect that the bonus for full-time employees is $750, not $1,000.
Superintendent gets high marks and a raise
Superintendent Keith Price got a contract extension and a raise this week.
After a two-hour executive session, during which Georgetown County School Board members reviewed Price's summary of the district's progress and talked about his performance, the board rewarded him for their "excellent evaluation" of his work during the 2020-21 school year.
The board added a year to Price's contract, which he signed when he joined the district in June 2020.
It will now expire in June of 2025.
Board members also approved an $8,000 raise retroactive to July 1, which is the start of the school year. Price's salary in September 2020 was $185,200.
Neither Price nor any of the board members commented after the extension and raise were approved.
The district did not release any information about Price's evaluation, including the format that was used or how the board members arrived at their conclusion.
Lindsay Ann Thompson, executive director of compliance, said a summary would be available within 14 days.
Price worked for the Richland 2 School District for 24 years before being hired in Georgetown.
Before he was an assistant superintendent there, he was a principal and assistant principal in Blythewood and Columbia.