School board candidates offer views from inside and outside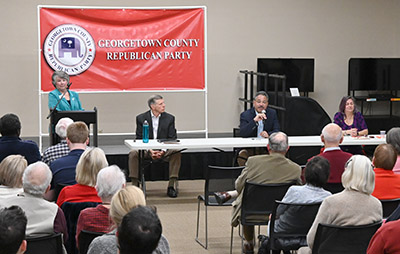 The GOP forum for the nonpartisan election drew about 50 people.
Two former insiders and one outsider are running to fill a vacant seat on the Georgetown County School Board.
Kathy Ferdon-Anderson and Jon Tester, who both retired from the county school district, and Scott DuBose, a retired business man, faced the public this week during a forum sponsored by the county Republican Party.
DuBose said the public education system has "lost its way" over the last 40 years and questioned why local districts don't set their own curriculum standards.
"I think we as a community here in Georgetown, if we want our kids to learn history, and the state standards say they only get 10 hours of history, we ought to be able to say, 'we're going to teach history,' " DuBose said. "It ought to be the community's responsibility and the board to make that decision, or at least start some initiative to get up there and say, 'hey what's going on.' "
Superintendent Keith Price, who attended the forum, said afterward that districts that don't follow state standards can lose their accreditation.
Tester, worked as a teacher, principal and assistant superintendent for academics and student services during his 32 years with the district, said not only are districts required to teach the state standards, administrators are required to make sure the standards are being taught.
"It a big part of the administrator's job responsibility to be in [classrooms] to monitor that, to make sure a teacher's not taking it upon himself or herself to teach the piece that he or she feels most strongly about," Tester added.
In response to a question about what they would have done differently in the last two years of the COVID-19 pandemic had they been on the school board, DuBose said health care workers and first responders went to work and did their jobs taking care of sick people and questioned why teachers weren't working.
"The only group of people in this entire country that wasn't present and accounted for were our school teachers," DuBose said. "That's not only in Georgetown County, I'm talking about the entire United States. The only group of people that refused to go to school and teach were school teachers."
Children were the least likely to get COVID-19, get sick from it or transmit it, DeBose added.
Anderson spent 33 years teaching English and theater in the district. She was still teaching when schools were closed by the state in March 2020. Children may not have been dying, but adults were, she said.
"I think our school board, with the knowledge that they had, they did the best that they could do at that time to keep our children safe to keep teachers safe, to keep families safe," Anderson said. "A lot of our children go home to grandma, or go home to grandpa, or go home to ill parents."
DuBose, who has an engineering degree, worked for Exxon and retired as a senior vice president of a management consulting firm, said there were things about education and the district that he wanted to learn about if elected, but touted the fact that unlike most of the current board members, he has no connection to the district.
"I want to bring a business perspective and a fresh set of eyes to the board," he added.
All three candidates are advocates for technical colleges as alternatives to a four-year degree.
Tester said trade schools are a "best avenue" for some students, who then enter the workforce as soon as they graduate.
"They're making a good salary and they're needed," he added. "They're a necessary part of our community."
DuBose agreed, but said students still need the basics.
"Even in a technical school, if you can't read and you can't write, and you can't think logically and understand instructions, you're going to flunk out of there too," he said.
Anderson said one of her goals if elected would be to follow the money. She said people have told her the district is "top heavy," and she questioned if curriculum specialists are really needed at every school.
"I want to know how our money is spent, [how] our money is spent administratively, and how we can do better to get it into the schools to support our teachers, our students, to raise our education level," she added. "To make us more competitive with other districts in the state and also with other states in the country."
Tester also wants to follow the money. He is concerned about what's going to happen in two years when the district's money from the Elementary and Secondary School Emergency Relief Fund runs out. That money was approved by Congress in a COVID-19 relief package.
Georgetown has been using some of the for pay for employee salaries. The district will probably not have money to sustain those positions because of a tight budget, due to a significant amount of students leaving the district during the pandemic.
"Without that student enrollment we can't sustain the employment of some of these teachers that we're using in these very critical capacities right now," Tester said. "I would be interested in getting involved in looking down the road to what are we going to do in 2024? How are we going to sustain the personnel that are being effective and any programs that have proven to be effective that we are funding with the special money."
The candidates will face the public again Monday at 7 p.m. at the Georgetown Library.
Absentee voting has already started for the election to the seat, which became vacant when board chairman Jim Dumm resigned.
Since it is an at-large seat, all registered voters in the county can cast a ballot.
Go to gtcountry.org for more information.