School board lifts freeze on members' pay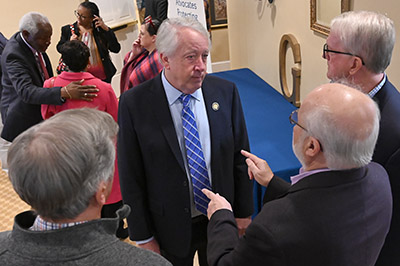 School board members Scott DuBose, left, Robert Cox and Bill Gaskins talk with state Rep. Lee Hewitt. It would take an act of the legislature to change the terms of the board chairman.
Starting July 1, the nine members of the Georgetown County Board of Education will get the first salary increase in more than 20 years.
The board voted this week to increase salaries from $6,719 to $8,000 for members and from $9,406 to $9,700 for the chairman. There was no discussion. The vote was unanimous, although Board Member Robert Cox was absent.
Board Members Kathy Anderson and Keith Moore, who had voted no when the policy came up for first reading, voted yes this time.
District policy used to be that board members receive 25 percent of the starting, or base, teacher's salary as compensation. The chairman receives 35 percent.
During an ongoing budget crisis in 2003, the board voted to freeze the stipend. It has remained at $6,719 a year, which was 25 percent of the starting teacher's salary in 2002-03.
The new salaries are not tied to teacher pay and will stay in place until the board changes them.
The board started reviewing policies after Board Member Bill Gaskins was elected chairman in December.
That continued on this week with the board giving first or second reading approval to nine policies, including the salary increase, ranging from unencumbered time to district goals and objectives to staff communications with board members.
The board was split on one policy that members have been discussing for months.
Shortly after being elected chairman, Gaskins suggested the board enact term limits for its chairman.
Board policy only requires that an election for chairman take place every two years. It does not have any limits on how many times the same person can serve. Jim Dumm served as board chairman for 12 years before resigning at the end of 2022.
Gaskins told the board in December that a chairman should only serve two terms.
Last month, Lindsay Anne Thompson, the district's attorney, told the board that their method of election is part of state law and would require an act of the legislature and approval of the governor to amend.
Thompson suggested updating the policy to read that whoever chairs the board is "encouraged" to not serve more than two consecutive terms.
The revised policy the first of two required approvals in February.
This week, Board Member Scott DuBose said "encouraged" was not "emphatic" enough, adding that term limits for the chairman would "promote variety and prevent complacency."
"Encourage is just a word of OK, probably, maybe," Board Member Randy Walker said. "I think it needs to be another word other than encourage."
Moore agreed.
"I just don't see what it benefits to encourage somebody," he said.
Board Member Patti Hammel agreed.
"The board has the chance to say we need a new chairperson," Hammel said. "I'm not sure if 'encourage' helps anybody if they were trying to get the board to vote for them to stay. I just think if we can't say emphatically that we have two, two-year terms, I think we're better off leaving it alone."
Board Member Sandra Johnson said voters can solve the problem at the ballot box.
"So I'm not sure we even need to say it," Johnson added.
A suggestion to chang "encourage" to "recommend" didn't gain traction.
The board tabled the policy change for further discussion.