School board picks 3 finalists for superintendent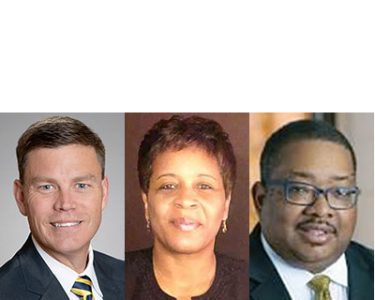 The finalists: Price, Williams and Wright.
The Georgetown County School District is expected to name a new superintendent by Memorial Day.
School board members interviewed six candidates this week to replace Randy Dozier and announced three finalists on Wednesday. Two of the finalists – Valarie Williams and William Wright – are from North Carolina and one – Keith Price – is from South Carolina.
Williams has been assistant superintendent for curriculum and instruction for Scotland County, N.C., public schools since 2014. Before that she was an assistant principal and principal in schools in the Charlotte area.
Wright has been the superintendent of the Hertford County, N.C., public schools since 2015. Previously he was superintendent of the McCormick County School District and assistant superintendent of Harnett County, N.C., public schools.
Price has been the assistant superintendent for the Richland 2 School District since 2014. Before that he was a principal and assistant principal of schools in Blythewood and Columbia.
This week's interviews were conducted in person while maintaining social distancing.
School Board Chairman Jim Dumm was impressed with all six of the candidates.
"I was very pleased," he said.
"It was a very difficult situation to go ahead and choose three out of the six," Board Member Mike Cafaro said. "They're well-qualified and excellent candidates."
School board member Pat DeLeone said she found the candidates to be "very prepared."
Price, Wright and Williams will return for final interviews next week.
Public meet-and-greets with the candidates were supposed to take place after the announcement of the finalists, but were canceled due to the COVID-19 outbreak. Instead the district will release videos of the three discussing themselves, their backgrounds and their interest in Georgetown County. The videos will be posted on the district's website and Facebook page.
There were 70 applicants for the position from 22 states.
After a failed search for an assistant superintendent last year, the school board hired BWP and Associates in January to oversee the process of hiring Dozier's replacement. In February, BWP hosted a series of meetings with parents, teachers, students, board members, district staff and members of the community to come up with a leadership profile for the ideal candidate.
DeLeone was impressed with how organized BWP has been through the search process and this week for the interviews.
"It's been very, very good. It's been very thorough," DeLeone said. "They've given us what we wanted in a timely manner."
Dozier has been with the district since 1999 and was named superintendent in 2003. His current contract was set to expire June 30, but he signed a one-year extension in September that allows him to retire as soon as his replacement is hired. If that happens, the district could retain him as a consultant for 90 days, with the same salary and benefits.
The school board may announce its choice for the job after the final interview on Wednesday, or wait until its next regular meeting on May 26 at 10 a.m.
Cafaro called the decision "monumental."
"It's going to impact hundreds of students and hundreds of parents," Cafaro said. "He or she is going to be the No. 1 cheerleader for the school district and education."
"This board considers the selection of the next superintendent to be the most important decision we will ever make," Dumm said. "We had six outstanding candidates to interview, and I personally believe any one of them would have been a good fit."