School board rejects plan to bring students back for four-day week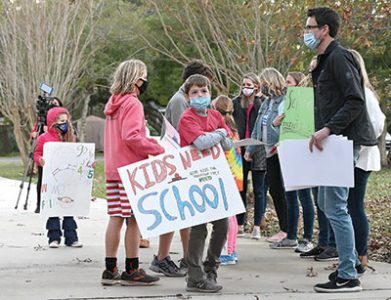 Austin Bond, right, who helped organize a petition drive, waits with students before the school board meeting.
For the second time in a month, a proposal to bring some of Georgetown County's students back for in-person learning four days a week was defeated by the school board.
Under the hybrid-plus plan recommended this week by district staff, all students in pre-K through fifth grade, along with at-risk children like English learners, homeless students and students in foster care, would have four days of in-person classes starting on Nov. 30.
"This has been the most difficult issue facing public education in generations," School Board Chairman Jim Dumm said.
The vote was 5-4, with Lynne Ford, Mike Cafaro, Sandra Johnson, Bill Gaskins and Randy Walker voting against the plan. Dumm, Patti Hammel, Pat DeLeone and Arthur Lance Jr. voted for it.
It was the first meeting for Ford, Hammel and Gaskins, who were elected to the board Nov. 3.
"While we're trying to push forward with more safe in-person options, our state and our country is seeing a spike again," Superintendent Keith Price said. "There's so many valid concerns that are out there. … It doesn't come as a surprise to me that this was not a unanimous decision."
Ford said she was told by administrators at Waccamaw Neck schools that they couldn't make four days work.
"While they admitted that hybrid was not the best option, they were making it work," she added.
"I think we wait and let the curve flatten out," Walker said. "Hopefully it flattens out by the end of the year. Then we revisit."
DeLeone said the district doesn't want people to get sick, but students only being in school two days a week is not working.
"Parents don't feel that their children are moving forward," DeLeone said. "I think parents who don't want their children to go face to face, can put them in virtual."
The district started a virtual program before the school year as an option for parents who didn't want to send their children back to school.
Parents have told Hammel that there isn't enough work on the days that students are not inside a school.
"Most of our students are not self-learners," Hammel said. "That's not the way we've taught them. We're moving that way, but we're not there yet."
A petition in support of four or five days of in-person classes that was signed by more than 500 people was presented to the board. Seventy-three percent of the people who signed it live on the Waccamaw Neck.
Dozens of people who signed the petition attended the meeting.
Austin Bond, who helped start the petition, said the goal was to support the school district in moving toward four or five days a week of in-person instruction.
He said when his two children are at school it's good, but when they're not it's tough.
"It's not going as well as we'd hoped and we feel that in-person instruction is better," Bond added.
Beth Hipp said her son, Taves, made more progress last year when he was in school full-time than he is making this year.
"It's not the teachers," Hipp said. "It's getting in the classroom and staying on him. I also ask for a hard hitter because he needs it."
Hipp's daughter, Arden, misses seeing all her friends in her kindergarten class at Waccamaw Elementary School. She said she would rather be in a classroom than on a computer.
"The hybrid product is stagnant," said Danielle Ratliffe. "Our kids are not moving forward. They're not progressing."
Dr. Angie Strickland, an emergency room physician, said the safety protocols the district has in place are working, as is the use of personal protective equipment.
"I have treated many, many, many COVID patients and have not gotten sick," Strickland said.
She told the board that more children will have mental health issues than will have COVID-19.
State Sen. Stephen Goldfinch, a father of two students, said no one is asking the district to require that students return to class more than two days a week. Parents just want a choice.
"Yes, we have a pandemic, let's not deny that," Goldfinch said. "But the consequences of not sending our children, with a choice, back to school five days a week, are beginning to outweigh the consequences of doing that."
He said parents are struggling with the demands of work and their children's education.
"It's time. We can not allow our children to fall behind one more minute," Goldfinch said.
Other speakers pointed to the recent rise in cases and urged the school board to remain with the two-day hybrid schedule.
Wesley Gibson of Georgetown, representing Citizens for Progress, said essential workers can not afford to get COVID-19.
"Face-to-face instruction is not right right now," Gibson said. "School is for our children to learn. It is not a day care center."
Gibson told the board that if one child dies the blood will be on their hands.
Lance agreed, saying if there was a death the district would be "lawyering up" because people would sue from "here to heaven."
Rev. Mitchell Adger of Mount Zion Missionary Baptist Church in Pawleys Island, asked the board to take the decision seriously.
"I would not like to see our children suffer because of a decision you're making," Adger said, adding that his church has not reopened yet.
Marvin Neal, president of the Georgetown chapter of the NAACP, has been speaking at school board meetings for months to express concern about in-person classes.
"They need to stay with the plan and take the advice of the health professionals and not the politicians," Neal said. "That's where the inconsistency and confusion comes in. That's what affects our kids more than anything. Bouncing them around is not the answer."
Maureen Mulligan of Willbrook Plantation is concerned that no one knows what the long-term effects of COVID-19 will be. She likened it to people who get chicken pox as children and then shingles as adults.
"That's what viruses do," Mulligan said. "We don't know what the long-term effects are going to be."
Elizabeth Brachna, a special education teacher at Andrews Elementary, doesn't want the district to sacrifice any of her students.
She said she is afraid every day when she goes to school.
"Every teacher I know is dying to go back face-to-face," Peterson said. "But we don't want to die."
After the vote, Bond noted that the margin was closer than the board's 4-2 vote last month.
"We'll be back to keep pushing," he said.