School board skeptical of 'rebranded' voucher plan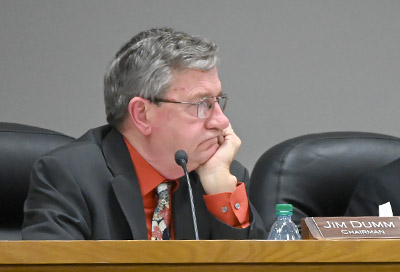 Jim Dumm served on the board for 27 years and was chairman since 2008.
A bill in the state legislature to create Education Savings Accounts that would take money from school districts and give it to parents to spend on their child's education is raising concerns with members of the Georgetown County School Board.
Once the money is taken from the district it might not be returned, even if the student re-enrolls in a district school. Money would also be taken for students who were never enrolled in a district school, like rising kindergarten students, home schooled students or students attending a private school.
"An Education Savings Account is a little bit different than what you may traditionally be familiar with as a voucher, and it's a little bit more than a rebranding," Patrick Kelly, director of governmental affairs for the Palmetto State Teachers Association, told the Georgetown County School Board this week. "It's partially a rebranding, but it is different."
A voucher can only be used for private school tuition, Kelly added, while ESA funds can also be used for things like textbooks, curriculum or other instructional materials; transportation; fees for management of ESA funds by private management firms; computers; educational consultants; dual enrollment courses at a college or university; and private tutoring or educational therapies.
"In my humble opinion, this is just a voucher in sheep's clothing," Board Chairman Jim Dumm said. "It's something that's been creeping in on our state for the last 15, 20 years, as long as I've been around. It gets closer and closer each and every year and it's to the detriment of public education."
ESAs would be controlled by the Department of Revenue and the state's Education Oversight Committee.
"The bill does not have any role for the Department of Education," Kelly said. "The state Department of Education's only real role is to run a cross check of the ESA list to district enrollment lists to make sure, I guess, that a family isn't double-dipping."
Families would have to apply for the money, which would be kept in a S.C. Education Scholarship Account Fund. The criteria included in the bill is that the family is at or below 200 percent of the federal poverty line, which is around $53,000 a year for a family of four; a child participated in the S.C. Early Reading Development and Education program; or that a child has received an Exceptional SC scholarship.
Kelly estimates that the ESA funds would start at around $4,900 per student, which is based on the state average for per pupil funding for 2021-22.
"That number could fluctuate from year to year," Kelly said.
ESA applications would be taken all year long as long as the cap on the number of students, which would be 5,000 the first year and increase each year, has not been reached. Under the terms of the bill, the cap would disappear in the 2026-2027 school year, opening the program up to all eligible families.
"This is not a situation where Georgetown County schools would be aware in June that 50 students have been approved for ESAs and you should budget accordingly," Kelly said. "You could pass your budget in late June or early July and then a month later learn from the state treasurer [that] they're basically clawing back funding for ESA students. From a financial management standpoint, I would say, this looks a little bit challenging."
Families cannot withdraw unused funds when a child leaves school.
"You can't ride off into the sunset when the kids turns 18 and withdraw it like it's a literal savings account," Kelly said.
As the bill is currently written, a school district would not get the unused funds back either, even if the child returns to one of its schools. The funds would remain in the scholarship account.
Board Member Bill Gaskins said the district needs to figure out how many county residents are enrolled in private schools to see how it would affect the district budget if those students were all approved for ESAs.
Board Member Patti Hammel said if a child who qualified for an ESA later re-enrolled in a district school, it would be a "challenge" to educate them without the funding being returned.
"If a child has further regressed, it's up to us to pick up that slack as well," Dumm said.
Arizona created the country's first ESA program in 2011.
Seven other states – Florida, Indiana, Mississippi, New Hampshire, North Carolina, Tennessee and West Virginia – now have ESA programs; five limit participants to special education students with individual education plans.
The current South Carolina bill would not limit the program to special education students.
Nearly 30,000 students use some sort of ESA. Florida has the most participants with more than 16,000. North Carolina and Tennessee have about 300 students each.
In West Virginia, 94 percent of students qualify for an ESA.
Kelly expects the state House Way and Means Committee to hold a hearing on the bill, H. 3976, sometime in January. Half of the members of the House have signed on as sponsors, including Rep. Lee Hewitt, a Murrells Inlet Republican.
Superintendent Keith Price invited Kelly to give the presentation at this week's board meeting to give members a chance to speak with their legislators before the hearing next month.
A similar bill has been introduced in the Senate.
Gov. Henry McMaster would have to sign a bill in May for it to start in the new school year.
"It is likely that Gov. McMaster would sign this bill," Kelly said. "He has been very open in his support for these kind of concepts."
If the bill becomes law, Kelly expects there will be a legal challenge.