School candidates debate insider status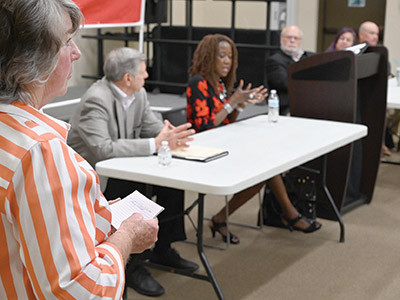 Candidates answer questions from Karol Anderson, who chairs the county GOP, at a forum this week.
As early voting gets ready to start on Monday, the candidates for three seats on the Georgetown County Board of Education are split over how important education experience is for a board member.
The candidates shared their thoughts at forums in Georgetown and Pawleys Island this week.
Lynne Ford, who was redistricted out of her seat in District 6, and Scott DuBose, who lost a bid for an at-large seat in March, are running for the District 2 seat.
"I think the board needs a fresh set of eyes. It needs more education diversity than it currently has," DuBose said. "I have an education background, it's just not in a school system, it's in business. I've run education departments, I've designed curriculum, I've led courses, I've taught courses. It's not that I'm a stranger to education, just a stranger to the educational environment."
"As a board member who did not have an education background, it's been very helpful and enlightening to me to learn not just from the constituents, but also from my fellow board members. It gives a different perspective," Ford said. "I think we have a lot of varying backgrounds that are on our board and I think it's served us well."
Board Member Pat DeLeone, who currently holds the District 2 seat, said she is more concerned about potential board members having their facts right, than whether they have a background in education. She is a retired nurse and a teacher.
"I think we need diversity, but the candidates that are running need to investigate what's going on in our schools," DeLeone said. "The candidates who are running are not making themselves aware of what's going on in Georgetown County."
Ford found herself on the outside of District 6 when the districts were realigned.
If she loses to DuBose, she will remain on the board until her current term ends in 2024.
"I'm in the middle of my term and I want to complete some of things that we have put in place," Ford said. "We have some goals in mind in terms of achievement, and we want to really continue that on."
DuBose has campaigned on the idea that he and Ford will both be on the board for the next two years if he wins..
"I would look forward to partnering with Lynne Ford for the next two years," DuBose said.
Mike Cafaro of Pawleys Island and Kathy Ferdon-Anderson of Georgetown both retired from the school district.
Cafaro is seeking his second full term on the board.
Ferdon-Anderson is seeking her first full term after being elected in the spring to complete the term of Jim Dumm, who resigned from his at-large seat at the end of 2021.
"Experience means everything," Cafaro said. "If you have not been involved in a school on a daily basis, if you don't know what children go through, and what parents go through and what teachers go through, you have no clue. You're clueless. It makes a difference."
"I bring 34 years of teaching experience to the board," Ferdon-Anderson said. "As a teacher, I understand what it's like to be supported, and not supported. I've been on both ends of that. We've got to support our teachers, and our parents when it comes to the education of our students."
Robert Cox worked in the county's building department for 26 years until he retired in 2017.
"I am not an educator. I am not a teacher," Cox said. "But I know leadership. I know what it takes to lead. I would to take that 30 years of government and apply it to education."
The top two vote-getters among Cafaro, Cox and Ferdon-Anderson will claim the two at-large seats.
A fourth seat on the board will likely be filled by a person not in education.
Keith Moore is running unopposed to fill the District 7 seat currently held by Board Chairman Arthur Lance Jr., who decided not to run for re-election.
"Why am I running for school board? Because I care about our kids," Moore said. "It's not about me. I'm not running so I can say, 'hey I'm a school board member.' I don't care about the title. I care about results."
Lance said the school board needs a combination of people with and without education experience.
"You don't necessarily need all educators on the school board. That doesn't make for a good process," Lance said. "You need diversity. … You don't need people on there who think they know [everything]. Nobody does. … There's a learning curve. They jump on and think, 'oh man I can tell them what to do.' What happens is they don't contribute anything."