Board considers options for limited mask mandates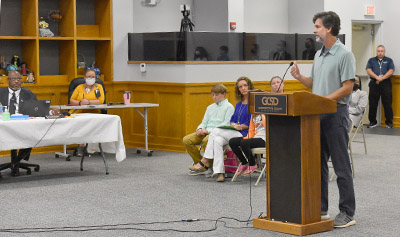 Russ Bodie urges the board not to adopt a mask mandate.
Parents will still decide whether their children have to wear masks inside Georgetown County schools, for now.
The school board voted unanimously this week not to enact a mask mandate, but discussed options for mandates if there is another rise in COVID-19 cases
Board Member Lynne Ford said that a month ago, when the district was in the middle of a spike in infections, she would have supported a mask mandate.
"There's so many mental health impacts of wearing a mask, there's so many negatives, I'm thinking that it kind of outweighs the positive," Ford added.
The district's medical advisory team, which is made up of eight doctors from across the county who advise Superintendent Keith Price and his staff, recommended that the board not enact a mandate.
"Right now, under our current conditions, the current policy in place seems to be working so there's not a need to change it," said Alan Walters, executive director of safety for the district
On Sept. 28, a U.S. District Court judge issued an injunction against enforcing a proviso in the state budget that barred the use of public funds to promote or enforce the use of face masks in schools. The ruling, which the state is appealing, came in response to a lawsuit that claimed the proviso violated the Americans with Disabilities Act.
The district's COVID-19 numbers have been in a steady decline in the past month.
This week the district said 33 students and seven staff members had tested positive and 178 students and four staff members were in quarantine.
A month ago, 243 students and 30 staff members had tested positive and 2,323 students and 45 staff members were in quarantine.
Price said he met with the district's principals, who pointed out how far the numbers had fallen.
"If we were considering [a mandate] a month ago, I think there would have been unanimous approval," Price said. "We're in a very different place now than we were a month ago."
The principals were worried that a new mask mandate would force teachers to use instructional time to deal with mask issues.
"As the conditions have improved, our principals feel like we're focusing more on teaching and learning." Price said. "The thought about possibly withholding students from learning because of their stance on the mask issue was somewhat concerning."
The principals suggested the district enact a mandate that would allow for masking in specific classrooms or schools when an outbreak occurs.
"I do value their opinions and their thoughts," Price said. "They're on the front lines. They're working with parents, students and staff all at the same time, trying to be accommodating to all and considerate of everyone's opinion."
The school board could vote to give Price the authority to enact a mask mandate if there is another spike in the COVID-19 numbers, or if another variant comes along. Another option would be for the board to hold an emergency meeting to approve a mandate.
"Having the ability to put masks in place temporarily in the event that our numbers could change within a school or across our district should help us mitigate the risk of spread in the future if we needed to do so," Price said.
Ford asked what would happen if the judge's injunction is overturned.
Walters said the case could end up being appealed all the way to the Supreme Court.
"There's a process involved and it's not going to be a really fast one," he added.