Sea turtle nesting rebounds to record levels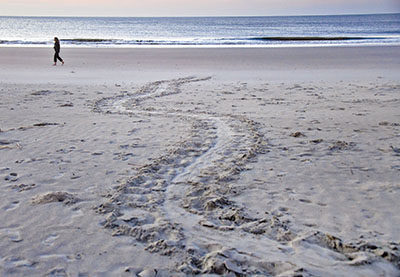 Tracks left by a sea turtle nested on the south end of Pawleys Island.
After a historically low nesting season in 2018, sea turtles have returned to the South Carolina coast in droves.
There have been more than 200 nests this year from North Inlet to North Myrtle Beach, according to Jeff McClary, co-founder of the South Carolina United Turtle Enthusiasts, which is celebrating its 30th anniversary this year.
"Hopefully we're hitting our peak," McClary said. "We're having five to nine [nests] a day."
So far there have been 10,935 nests in the Carolinas, Georgia and Florida.
"It's a big year for the whole entire coast," McClary said.
Cape Island in the Cape Romain National Wildlife Refuge, which is traditionally one of the South Carolina's most prolific areas for nesting, has had 1,233 nests. McClary said that area is seeing 50 to 60 nests each day.
In 2018, Cape Island only had 518 nests. In 2017 it had 1,338.
The season got an early start when a Kemp's ridley nested on Kiawah Island on April 26. Kemp's ridley is a rare and endangered species that nests during daylight hours.
After only 2,767 nests on the South Carolina coast in 2018, there have already been 5,184 this year. In 2017 there were 5,250.
There were 16 nests on Pawleys Island and in Litchfield in 2018 after 32 nests in 2017. This year there have already been 35.
"It's going great," said Mary Schneider, who oversees the Pawleys Island/Litchfield SCUTE group. "We are having more nests than we had before this early in the season."
Schneider attributes the increase in nesting to the warm weather in winter and spring.
"When the water is warmer they started nesting earlier," she added.
The record for nests on Debidue Beach and Hobcaw Barony is 108 in 2013. This year there have been 76, tying it for the second best season. Last year there were only 24.
"We've never experienced anything like this," said Betsy Brabson, who oversees the DeBordieu SCUTE group. "It's what we've all been hoping would happen. Be careful what you wish for."
Seasons like this don't come around very often, Brabson added.
"There aren't enough hours in the day," Brabson said. "The nesting, the reporting, keeping up with supplies. We're doing it round the clock."
North Island had 239 nests in 2017 and only 108 nests in 2018. This year there have already been 163.
"The farther south you go the more nests you have," McClary said.
However, predators are a problem on North Island. Four of 11 nests were attacked in one night recently.
"North Island coyotes are very savvy," Brabson said. "They're getting the nests sometimes on the first night. We screen everything over there."
DeBordieu SCUTE volunteers patrol the island three times a week.
Brabson said indications are that some of the turtles are young, based on the smaller than normal width of the tracks. There are also fewer eggs. Mature turtles lay about 120 eggs per nest. Younger turtles lay about 115.
"We think those are the ones that survived 30 years ago" when SCUTE first started, Schneider said.
McClary said the fewest nests SCUTE has recorded in one year was 43.
"I always hold my breath to get past 43 and hold my breath to get past 100," he said. "I'm not holding my breath now."
He predicts a historic year of around 260 nests, breaking the old SCUTE record of 226.
Visitors to the beach should remember not to leave any items on the beach overnight and fill in any holes they've made. Nesting turtles can become trapped or will turn back if they encounter obstacles.
If you come upon a sea turtle nesting, coming out of the water or returning to the water, you should leave her alone.
"If you do that you will guarantee yourself one of life's most exciting experiences," Brabson said. "It's bucket list material."
The first nests should start hatching in mid-July. It is a federal offense to disturb or damage a sea turtle nest unless you have been trained and certified to take part in an inventory.
People who live on the beach or are renting on the beach should keep all outdoor lights off once nests start hatching. Baby turtles follow the light of the moon to the ocean and can be easily confused.
Follow SCUTE on Facebook to keep up with nesting activity and nest inventories. Information about inventories on Pawleys Island are posted at Town Hall. For information on Debidue Beach, Hobcaw Barony and North Island, go to debordieuscute.org.