Season of giving grows with online fundraising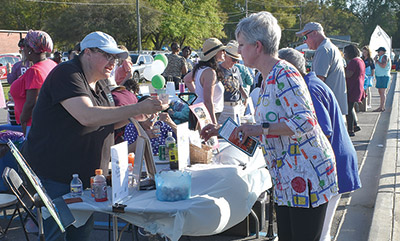 The 83 groups that will participate in Palmetto Giving Day gather for a fair to launch the event.
As much as Palmetto Giving Day is about raising money for nonprofits, it's also about building a community.
"The more people know each other and build relationships with each other, the better off we all are," Geales Sands, executive director of Frances Bunnelle Foundation, said. "We count on our nonprofits in a lot of communities. The stronger they are, the stronger Georgetown will be. I think they get stronger by working together."
The foundation, which started Palmetto Giving Day six years ago, has adopted the hashtag "onegeorgetown" for this year's event, a 36-hour fundraising extravaganza.
Last year, Palmetto Giving Day set records for most money raised ($3 million), most donations (6,165) and most nonprofits (11) to collect more than $100,000.
After averaging about 50 nonprofits the first couple of years, there were 62 last year, which was a record. There are 83 this year.
"There's a lot of excitement. The only thing that limits people in Palmetto Giving Day is their own creativity. It's up to them how well they do," Sands said. "We try to provide them with all the training and all tools. It's their job to take those tools and make them their own and make them work for them."
Representatives from most of the nonprofits gathered for an information fair at the Beck Recreation Center last week.
Carson Turner, director of the Pawleys Island Concert Band, spent part of the fair chatting with other nonprofit representatives – like Sylvia Plyler of the Waccamaw High School Choir – to find ways to collaborate.
"We like collaborations a lot," Turner said. "Our mission is to provide local amateur musicians a place to make music."
The band does not charge a booking fee, nor does it charge people to attend concerts, so it needs to raise funds for a variety of things, like buying instruments.
It's the first Palmetto Giving Day for the school choir, which needs more than $125,000 to fund a trip to Hawaii in December to perform at a commemoration of the 82nd anniversary of the Japanese attack on Pearl Harbor.
Plyler got the idea to participate from the organizers of the Pawleys Island Festival of Music and Art, who she and her students have collaborated with over the years.
"They are dear friends and they support our classrooms," Plyler said. "We just sat down and started brainstorming."
So far the choir has raised about $70,000. Plyler hopes to take at least 60 students.
"If the kids see that growth in what we're raising, then they're going, 'you know what? There is hope that I'm going to be on that flight,'" Plyler said. "The big interest for so many of our community people was making sure the student that would normally say, 'there's no way I'm going,' that's the one we want."
The Village Group was one of the nine nonprofits that raised more than $100,000 during Palmetto Giving Day last year.
"Palmetto Giving Day is quite important to this community. Not only to The Village Group but to the other 82 nonprofits that are involved this year," said Ray Funnye, executive director of the nonprofit. "I think this is a great opportunity for us to showcase our work to the entire community and at the same time, raise the necessary funds for our programs to survive."
Funnye said the donations will help The Village Group hire qualified teachers, grant writers, professional fundraisers.
"We are very happy to be able to help use this mechanism to raise awareness and funding," Funnye added. "It's means we're able to employ qualified professionals to help us with our work."
The other eights nonprofits that brought in more than $100,000 in 2022 were: SOS Care, Miss Ruby's Kids, Friendship Place, Martha's House, Smith Medical Clinic, Freedom Readers, Family Justice Center of Georgetown and Horry Counties, and Mingo Creek Academy. Two nonprofits – Teach My People and Helping Hands of Georgetown County – topped the $200,000. It was the first time a nonprofit collected more than $200,000.
Saint Frances Animal Center had the most donations with 324.
The amount of donations on Palmetto Giving Day has grown steadily since the first event six years ago: $676,000 in 2017, $1.1. million in 2018, $1.2 million in 2019, $1.7 million in 2020 and $2.1 million in 2021.
For more information on all the nonprofits involved go to palmettogivingday.org. The website will be the only place to make donations on May 2 and 3.