Season of giving turns focus to food quality over quantity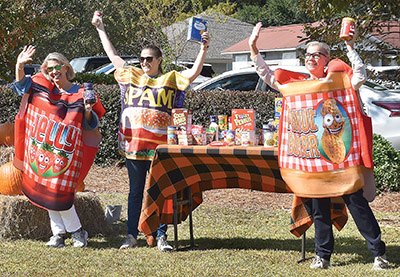 Georgetown Mayor Carol Jayroe, right, joins her co-workers, Rhonda Sawyer, left, and Lauren Fournier, in collecting food donations outside Peace Sotheby's.
Got your hands on some non-perishable food that is beyond its expiration or sell by date?
Don't donate it to a food pantry. Throw it away, so the people at the pantry don't have to.
Nancy Cave, co-coordinator of the Baskervill Food Pantry, said volunteers can always tell when someone has cleaned out their kitchen cabinets or refrigerator, or someone else's.
"Sometimes they're really, really old. If they're way beyond their expiration date, then we have to throw [them] away," Cave said. "People just clean out things and bring it to us."
Sometimes, donated food items are already open.
"We have to throw them away," Cave said.
For the past several years, Georgetown Mayor Carol Jayroe has donned a costume and spent two hours on Tuesdays in October and November standing outside Peace Sotheby's International Realty, where she works, trying to encourage people in the passing cars to drop off donations for Baskervill.
She encounters the same problem with expired food. On a recent Tuesday, a lady dropped off three reusable shopping bags full of food. Nearly two-thirds of it was expired, including one item that had a sell-by date in 2015.
Jayroe disposed of all the expired food.
Baskervill does accept donations from local grocery stores of food that is close to expiration or sell by date.
"There's nothing wrong with the food, they just have to take it off the shelf," Cave said. "That's been very helpful."
Cave also sees unusual items among the pantry's donations, like ethnic spices and sauces.
"Some things we say, 'what do we do with this?'" Cave said. "Why would anybody buy this? What do they do with it?"
Unusual items don't get packed into Baskervill's distribution bags. They get put on a "take two" rack, where anybody who likes to eat that particular food is encouraged to take two of them.
Baskervill, on average, distributes about 600 bags of food a month. "That's good," Cave said.
Every bag Baskervill distributes includes a protein such as canned chicken, tuna, peanut butter, black beans, pinto beans.
Other staples include: macaroni and cheese; canned vegetables, fruit or meals like ravioli; white rice; pasta and pasta sauce; grits; oatmeal; and soup.
For people who want to donate cereal, Cave said anything without a coating of sugar is best.
Helping Hands Of Georgetown is getting ready to supply 500 families in the county with all the ingredients for a Thanksgiving dinner, including a turkey or ham, or a gift card for one.
Executive director Brendon Barber said the nonprofit has seen a decrease in donations this year, especially food, because of rising prices.
"When people used to go to the grocery store, they would buy their groceries and then something for the food pantry," Barber said. "You're just not seeing it this much this year since the cost of food has gone up."
And it's not just the price of food that has increased, Barber added, but also other cost of living expenses like transportation, utilities and housing.
"Folks are trying to figure out whether they're going to pay a utility bill or buy groceries," he said.