Second overnight cleanup tackles median's fall crop of weeds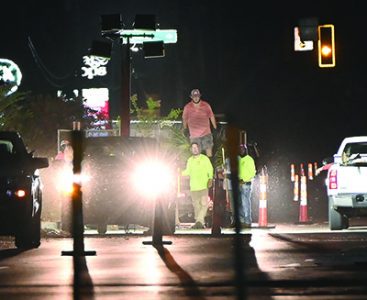 Inside lanes of the highway will be closed to provide a safe work space.
The weeds in the Highway 17 median through Pawleys Island were so large that last Christmas someone hung decorations on one. That won't happen this year.
Crews from Waccamaw Landscaping will be out tonight for a cleanup along 1.9 miles of the highway between Archer Road and Waverly Road. It follows an application of weed killer that was sprayed in the landscaped median on Tuesday.
The company conducted the area's first cleanup in two years in July, with about 40 workers hauling off 20 dump truck loads of weeds and trimmings.
"It won't be as bad this time," said Mark Blackwelder, maintenance superintendent for Waccamaw Landscaping.
The work will start sometime after 6 p.m. today and continue into Friday morning. Blackwelder estimated it would require about eight hours. The inside lanes of the highway will be closed in each direction. "We can do anything as long as it's safe," Blackwelder said.
He and Carson Maynard, the company's commercial foreman, did the spraying. They wanted to evaluate the conditions. A Midway Fire and Rescue truck was positioned behind their pickup for safety.
The work is being funded by Georgetown County, which asked the state Department of Transportation to replace a two-way left-turn lane with the raised median. The work was completed in 2015. Waccamaw Landscaping did the planting and maintained it for the first year for DOT. After that, the state turned it over to the county. The results were spotty.
A daytime cleanup that closed two lanes of the highway just before the Easter weekend in 2019 drew more complaints than the weeds in the median. The July cleanup was done overnight at a cost of $30,000. About a third of that was for traffic control, said Beth Goodale, the county director of Parks and Recreation. She took over the project this year.
"I didn't hear any complaints about the night cleaning," she said.
The county plans to fund five cleanups a year at a cost of about $15,000 each. The cost per mile works out to be about the same as the medians to the north and south that are maintained by nonprofit groups with support from county accommodations tax revenue, Goodale said, because the other medians get more frequent work.
Tonight's cleanup will cut down the weeds that survived the spraying and include the application of pre-emergent herbicide, Blackwelder said. Crews will return in late winter to trim the grasses and crepe myrtles.
Goodale was pleased that there would be no weeds to decorate for the holidays.
"It's not out of control like it was," she said.