Seniors will cross the goal line June 4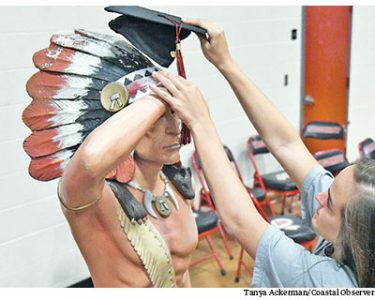 Ava Markham decorated the WHS mascot before graduation last year. This year's ceremony will move outside.
Waccamaw High School seniors will get their moment in the sun, literally.
This year's commencement ceremony will take place in the school's football stadium on June 4 at 9 a.m.
"We're trying to make the best of a difficult situation," Superintendent Randy Dozier told the school board Thursday. "We're going to try and make it the best graduation we can in these circumstances."
Each senior will be issued two tickets, although Dozier said more might be available through principals. Guests will be seated in designated areas in the bleachers while adhering to social distancing.
Only district staff and people attending the graduation will be allowed on the school campus during the ceremony, according to Alan Walters, the district's director of safety. Attendees will be given parking passes.
Although there will be a nurse on hand, she will not being taking people's temperatures before they enter the stadium.
"I think that would be very cumbersome and back things up," Dozier said.
Seniors will be asked to wear a mask during the ceremony, except while they are crossing the stage. Diplomas will be placed on a table for the seniors to pick up to eliminate physical contact.
"We're excited about it," Dozier said. "I think it will be something the seniors deserve."
Once the ceremony is over, people will be asked to clear the campus as quickly as possible.
"If you want to celebrate please go celebrate somewhere else," Dozier said.
Waccamaw will be the last of the district's four graduations.
Carvers Bay, which has the smallest senior class, will have its ceremony on June 1. Dozier said that will be a chance for district staff to work out all the kinks.
Andrews' ceremony will be June 2 and Georgetown's will be June 3.
If any of the ceremonies get rained out the makeup dates are June 5 and 6.