Sheriff frustrated, but undeterred in push for more deputies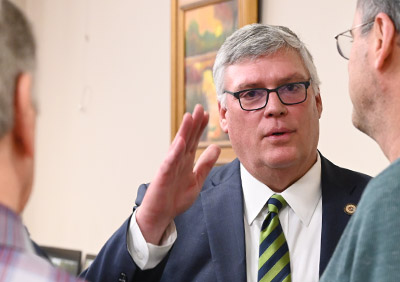 Sheriff Carter Weaver explains his plan to voters at a GOP Club meeting.
Sheriff Carter Weaver will press his request to County Council for funds for additional patrol deputies during a budget workshop next week. It is the same request he made the previous two years with the goal of adding 26 patrol deputies by 2030.
Weaver also wants to raise pay for deputies and officers at the jail by $4,000 across the board to aid retention and recruitment.
The proposals were sent to County Council in February. So far, Weaver said he has only heard from one of the seven members. He has met with county staff who prepare the budget for the council's approval.
"I had been told there was no way possible to address the need for additional deputies financially," Weaver said. "That's exactly what I was told last year."
Georgetown County maintains a separate tax rate for law enforcement. It is due to rise from 20.6 to 22.58 mills in the fiscal year that begins July 1. That will raise an additional $1.1 million.
"That's just to balance the budget," Weaver said.
He needs an extra $644,000 to fund his proposed pay increases and close to another $1.2 million to add eight patrol deputies.
State law caps the amount that local governments can raise property taxes each year to a combination of the federal Consumer Price Index and the percentage increase in population. Applying that formula to the law enforcement fund limits the increase to 1.98 mills. (A mill equals $1 in tax for every $1,000 of assessed property value.)
But Weaver said it is unrealistic to fund law enforcement in a county of 65,000 people with a formula created 20 years ago when the population was 55,000. And that doesn't include visitors who can add tens of thousands of more people during the peak season.
"You've created a fund that, in my 21 years, has never been sustainable," he said. "It's reckless."
Council Member Stella Mercado, who took office in January, pointed out to Weaver that based on his numbers he actually needed 24 more deputies this year.
"At least you have studied the material," Weaver told her. "That number is only going to go up."
Since the sheriff's office last increased the number of patrol deputies, the number of calls for service has increased by nearly 40 percent, according to information Weaver provided to the county. The office has added school resources officers, a traffic unit and a beach patrol using grant funds.
Last year, Weaver asked the county to increase pay for all public safety workers by 10 percent. The council approved a plan that ranged from 2 to 7 percent and continued to fund up to 3 percent merit increases that were restored in 2021.
The increases were higher for new hires and those most likely to be hired away.
At the time, Weaver called it "a good first step."
Vacancies in his department were in double digits last year. Weaver told the county GOP Club earlier this year that they had fallen below 10 percent.
But he said this week that he had to return federal prisoners housed at the jail to the custody of the federal government because he doesn't have sufficient staff at the jail. That means the loss of $180,000 a year in revenue.
Weaver said he is frustrated that there was no further discussion about pay and hiring after last year's budget. "I hear crickets," he said. "I'm tired of shouting in the rain."
In 2006, each of the 75 patrol deputies handled an average of 725 calls a year. By 2020, when Weaver first proposed a plan to raise the number of those deputies, each one averaged 1,000 calls annually. Most of the calls for service come from the Waccamaw Neck, and Weaver has told council members that he will need to adjust staffing according to population and the likelihood that deputies will be called to respond.
"They're putting their elected sheriff in a position that he's going to have to decide who gets coverage and who does not," Weaver said.
The additional pay Weaver is seeking for current officers would bring their salaries closer to those in Horry County. "I lose them to Horry, mostly," he said.
Weaver said he was told that exceeds what the county plans to do for its other employees, although he said details of those plans needed to come from Administrator Angela Christian.
"I respect all county employees, but they don't do what we do," Weaver said. "This is about providing safe, quality public services to the citizens."