Solo cleanup effort takes litter in stride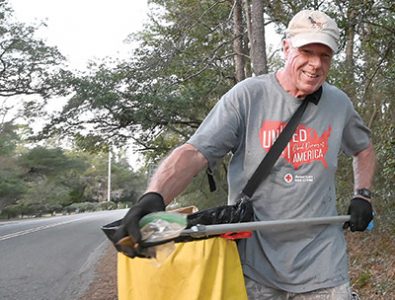 It took John Stricker a month to get a portion of Petigru Drive cleaned up. He now does weekly litter walks.
The first time John Stricker picked up litter along Petigru Drive near his home, it took a month to get the roadside clean. Last week, he was finished in two hours, which included a side trip down Bertha Lane.
"It would be nice if it didn't reappear," he said.
But he already saw trash along Martin Luther King Road, which he had cleaned up earlier in the week.
"It's no different than picking weeds out of your garden," Stricker said. "It's part of life."
For the past 18 months, it's been a part of Stricker's life. He and his wife moved to the Hammock Cove neighborhood off Petigru in September 2021 after he retired from a career managing grocery stores in northeast Maryland.
Stricker would ride his bike down Petigru to Waverly, then take the Bike the Neck path to Kings River Road and wind up at Huntington Beach State Park.
"You see a lot when you ride a bike," he said.
He stared carrying a grocery bag to pick up trash along the way.
"This is ridiculous. I had to keep stopping," Stricker said.
So he started walking, trash bag in one hand, grabber in the other.
Once he got Petigru in shape, he added Waverly. That took another month to get clean. After that, he started on Martin Luther King.
Stricker has become a one-man litter crew, acknowledging the thanks from those who stop to talk and drivers who just honk their horns, but politely declining offers of help.
"I've had a couple of people say, 'Let me know when you're going out, I'll come out with you,'" he said.
He prefers to work solo. After a career managing people and schedules, "it just makes it easier for me."
He added Grate Avenue, which leads to the recycling center, and Richardson Lane, which leads to the back of Publix. In all, he has about 4 miles of road under his care.
"The road back to the dump is bad, and it gets bad real quick," Stricker said. "The people that live back there shouldn't have to look at that."
Georgetown County adopted a litter action plan last year, boosted by a $25,000 state grant to pay for a three-member litter crew. The county got another state grant this year and is also using a portion of its accommodations tax collections to fund anti-litter programs.
Stricker has received invitations to join cleanups along Highway 17, but he prefers to stick with neighborhood streets. Some are already part of the state's Adopt-a-Highway program, but that only requires two cleanups a year.
"There are a lot of signs, but I don't see people picking up the trash," Stricker said. "You can imagine how bad it gets when you only pick up twice a year."
Stricker is a member of the Knights of Columbus at Precious Blood of Christ Catholic Church. The group has adopted Waverly Road. The only complaint Stricker has received was a good-natured one: Some of his fellow knights said he hadn't left anything for them to pick up.
After breaking his right elbow last year, Stricker wasn't able to carry a trash bag, so he got a bag he could sling over his shoulder with a trash bag as a liner. It allows him to work more efficiently, he said.
Stricker doesn't pick up cigarette butts, but everything else, no matter how small, is fair game. Now that he has the roads in reasonable condition, he maintains a brisk pace. The ditches are a challenge, particularly after a rain, and he leaps back and forth to pluck trash from the bushes.
Where the wetlands cross under Martin Luther King Road east of McKenzie Circle, Stricker has had to improvise. He attaches a pipe to a crab net to reach into the water or brings the skimmer from his pool.
Stricker does Petigru between Martin Luther King and Waverly once a week. He was doing the other roads weekly, but now hits them every other week.
Adding Grate Avenue and Richardson Lane adds another hour to the Petigru cleanup.
"I've talked to my wife about doing Parkersville [Road]. It's pretty bad," he said.
Stricker doesn't keep track, but beer cans and liquor bottles are the most common items he picks up. Minibottles of Fireball Whisky lead that category. "They are everywhere," he said.
Before moving to Pawleys Island, Stricker's litter pickups had been limited to his work with the Boy Scouts, who had adopted roadsides. "It's not just South Carolina," he said. "A lot of people don't see it other places because you're driving too fast."
Stricker doesn't have a strategy for ending the problem. He sees it as an opportunity for service. He is also a volunteer at Father Pat's Kitchen at Precious Blood of Christ.
For the past 25 years, Stricker has been a platelet donor for the American Red Cross. It requires a donor with a high iron and platelet count who is willing to spend two hours at a center every other week.
"It feels good," Stricker said. "People need it and I'm happy to help.