Souper Bowl offers choices for every palate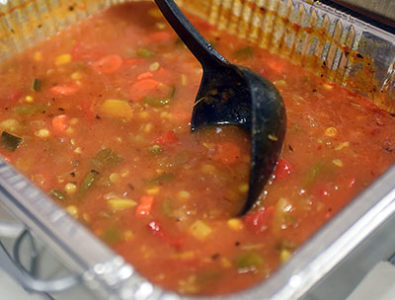 Dozens of soups are served up each year at the benefit for Habitat for Humanity.
People looking for soup to warm their insides during the recent cold snap will have plenty of choices on Saturday during the 21st annual Souper Bowl.
The event is a fundraiser for Habitat for Humanity Georgetown County.
There will be a flock of choices for people hungry for the taste of poultry.
If you want chicken chili, find Groucho's; chicken with green chilies, find Moe's Original Bar B Que; and chicken and dumplings, find Pawleys Plantation.
Habaneros will be serving chicken and rice, but Hopsewee Plantation is going a little wild with its Gin-Gin (chicken and wild rice).
Poultry and noodle fans can satisfy their cravings with either cock-a-doodle noodle from Lowes Foods or turkey noodle from Pawleys Island General Store & Artisan Alley.
Salt Water Creek Café is concentrating more on the chicken and less on the soup with a chicken pot pie.
Pescatarians will have plenty of choices at the Souper Bowl.
Three gumbos are on tap: Graham's Landing's Low Country seafood; Captain John's Seafood Grill's seafood with shrimp and scallops; and Big Tuna Raw Bar's shrimp and smoked sausage.
There will also be artichoke and crab soup from Atlantic House, fruits of the sea soup from Father Pat's Lunch Kitchen, and she crab soup from Hot Fish Club.
The Souper Bowl will be the site of a chowder battle featuring five challengers.
In the clam corner will be Rustic Table, Hanser House with a Manhattan style, and True Blue with a New England style ("chowda" to Boston folks).
Heritage Golf Club will be serving a smoked salmon chowder and Wedgefield Manor House will brings its Winyah Bay chowder all the way from the outskirts of Georgetown.
There will be six bean offerings: Italian white bean, escarole and Italian sausage from Austin's Ocean One; white bean and ham from Carefree Catering; white bean and collard greens from Get Carried Away Southern Takeout; black bean from River Room; lima bean and ham from Quigley's Pint and Plate; and pasta e fagioli (pasta and beans) from Pastaria 811.
Gio's Italian Kitchen will be on hand with lentil, Pawleys Island Bakery with sweet pea and asparagus, and The Reserve with cream of mushroom.
Carnivores can savor corn beef and cabbage from Inlet Affairs, cheeseburger soup from Island Bar and Grill, sausage minestrone from Landolfi's, or Pawleys Island stew from Southern Comfort.
Italian wedding soup usually contains meatballs, chicken broth, pasta and either escarole or spinach. The Fresh Market and Alfresco Georgetown Bistro will both be serving their versions of the Italian classic.
In the battle of the tomato soups, Applewood House of Pancakes and Root will both have tomato basil, although Root's will be a bisque, which is a little thicker. Bistro 217 will put a twist on it by adding crab and jalapeño.
700 Modern Grill and Bar will load up its baked potato soup while BisQit serves an unloaded version.
Tickets holders can choose a bowl painted by local residents and keep it as a souvenir.
If you go
What: The Souper Bowl
When: Saturday, 5:30-8 p.m.
Where: Precious Blood of Christ Catholic Church Family Life Center
How much: $30 in advance, $35 at the door. Available at Applewood House of Pancakes, Greenskeeper Florist and Palmetto Ace Home Center, and in Georgetown at the Habitat for Humanity Restore, 1145 N. Fraser St.