Space for kids to blossom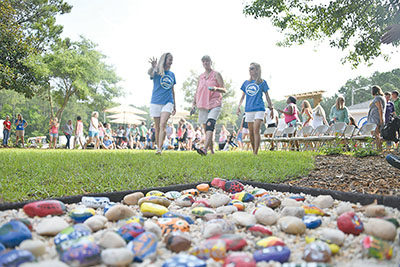 Kylie Vaughn, PTO president, shows Nancy Crawford, the creator of Pawleys Rocks, the rock garden with Jenny Johnson, project leader.
Waccamaw Elementary School students and staff now have an oasis behind the school to use for education, relaxation and fun.
The school's Parent-Teacher Organization funded the renovation of the Dolphin Garden, which includes a sensory garden, outdoor classroom, butterfly bushes and eating area just outside of the cafeteria.
"It's such a great addition," said principal Ashley Cameron. "We're excited about using it next year and years after."
The school's PTO spent about $7,000 on the garden, which the PTO president Kylie Vaughn said had become overgrown and under-utilized.
"It turned out to be way beyond what we thought it would be," Vaughn added "We love all the color in the area. We think that it's going to used a lot by our students."
Cameron said the PTO decided at the end of the 2018 school year to make the garden its major project this year.
"It was such a community effort," she added. "Our PTO is very involved and super supportive."
The eating area has six picnic tables with umbrellas that were created by the woodworking students at the Georgetown Career Center.
"It's a nice touch," Cameron said.
The PTO also installed a "buddy bench," which Cameron said guidance counselors can use to take kids somewhere quiet to talk.
"It's a nice area to just take a breath and enjoy the outside space," she said.
The sensory area is surrounded by a rock garden. Every student in the school painted a rock to display, and there are also 600 plain rocks so future students can paint their own rock and add it.
"There are ways for the garden to grow," Vaughn said. "We set it up to be able to do that."
Nancy Crawford of Pawleys Rocks worked with the school's art teachers to help the kids to get the painting completed. Unlike Pawleys Rocks, those in the Dolphin Garden won't travel.
The school staff also painted that pavers that form a walkway leading into the garden.
"I think what's so great about it are the personal touches," Cameron said. "It's just neat to see and they did such a good job."
Because of the stormy fall the Waccamaw Neck endured, work on the garden didn't start until February.
Vaughn said the PTO was able to save some money because a lot of companies gave discounts.
"Any company we worked with knew it was for a school," Vaughn said. "A lot of people that helped us were Waccamaw families."
Cameron hosted a ribbon-cutting for the area during the last week of school. She said she heard nothing but praise from her teachers.
"Several of them kept saying this is above and beyond what we ever expected," she added. "We saw it on paper but we didn't know what it was going to look like. They're so appreciative."
The PTO will be responsible for maintaining the area going forward, Vaughn said.