Speech team still connects in online arena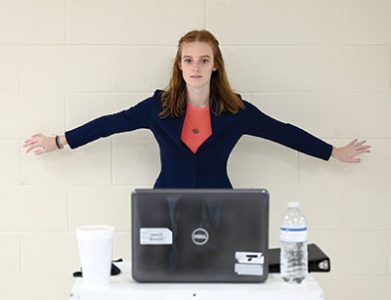 Megan Stackhouse checks the image on her laptop's camera before the competition.
When competing in a virtual speech and debate tournament, you have to have a plan and a backup plan.
Waccamaw High School's Windtalkers used both plans on Saturday to make sure they could perform live for the judges of the Carolina Kickoff.
"This is the craziest and weirdest start to a speech season that I have experienced in my 30-plus years of coaching," said the Windtalkers coach Ree Lawson.
Megan Stackhouse, Gracie Cohoon, Jahzlyn Smith and Colin Cunningham gathered at the school early Saturday morning to warm up for the tournament, which was scheduled to begin at 9 a.m. A fifth team member, Nevaeh Miller, competed from her home in Georgetown.
Lawson and her assistant coach, Kenzie Confer, were also at the school to work with the Windtalkers and serve as judges for the tournament.
Almost immediately, the team had trouble with the school's internet access. Then the tournament started having internet troubles on its end.
Lawson made a quick decision to take Stackhouse, Cohoon and Smith to her house in Pawleys Retreat, less than one mile from the school. Confer and Cunningham stayed at the school.
Stackhouse, Cohoon and Smith took turns locking themselves in Lawson's bedrooms, where they competed without distractions.
Smith said some competitors had to perform more than once because the judges' computers froze.
"I like being live way more," Smith said. "I just like interacting with people in person. It's obviously way better than having to look at them through a screen."
Despite the technical difficulties, the Windtalkers took home the tournament's Efficiency Award, which is given to the team that has the highest percentage of members winning individual awards.
Cunningham was first in children's literature, Smith was third in declamation, Cohoon was third in original oration and Stackhouse was third in dramatic interpretation.
"The ramifications of the coronavirus have been difficult, but the team turned lemons into lemonade," Lawson said. "The problems were fixed and the competitors had a positive attitude, which made it all fine."
The 2019-20 team was Lawson's biggest team and the most successful. The Windtalkers won the Class 3A title and were second overall in the state.
"Last year we made a name for ourselves," Stackhouse said. "Schools were scared of us."
This year, the team is smaller because Lawson couldn't recruit new members in the spring.
"We're keeping it alive right now," Lawson said. "I told the kids, 'don't give up.'"
The school's switch to block scheduling hurt because students who may have been interested in trying speech and debate don't want to commit to it as an elective in both semesters.
The district's hybrid learning phase has also separated the team.
"Obviously we miss our team energy and our team camaraderie," Lawson said. "They're doing a good job with small groups."
"It's harder to help others because you can't really be hands-on," Stackhouse said.
"Staying home half the week is not ideal for me," Cohoon said. "This isn't what I signed up for as a freshman, and it's not what I fell in love with as a sophomore. It's different, but I wouldn't be doing it if I didn't love it and that's why I'm staying."
While speech and debate has continued at Waccamaw High, other things, like marching band and some arts electives, are on hold this year.
"When all this is over there needs to be some arts to come back to," Lawson said. "We don't want to let all this stuff go."