Spurned by top pick, council resumes administrator search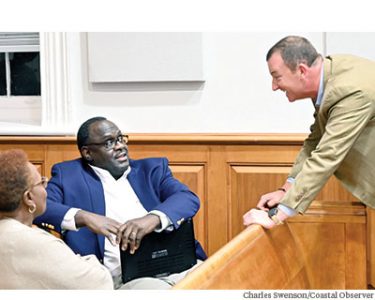 Ray Funnye, left, and Brian Tucker, the two local finalists, awaited the council decision last week.
Georgetown County Council will hire a search firm to help find a new county administrator after its top choice for the job turned down the offer.
The council voted 4-3 last week to offer the job to David Garner, director of Abbeville County. He was one of three finalists out of 37 applicants. The others were Ray Funnye, the county's director of Public Services, and Brian Tucker, its Economic Development director.
On Monday, Garner declined the offer, citing "personal circumstances beyond anyone's control."
Council Chairman John Thomas said Garner and Wesley Bryant, the county attorney, were still negotiating contract terms Friday. "Wes didn't have any indication he was having second thoughts," Thomas said. "Perhaps he talked it over with his family over the weekend."
Thomas' was among the three votes against Garner. He said it was a reflection of his support for Funnye, who has worked for the county as a department head for more than 25 years.
Thomas said he tried to reach Garner three times last week to explain the vote, "that it was not about him, it was about sending a message to Ray."
The council met Wednesday in a closed-door session to consider its options. After 90 minutes, the members emerged and voted 4-3 to hire a recruiting firm.
Thomas was again in the minority, with Council Members Lillie Jean Johnson and Louis Morant.
"With all due respect to Ray, we felt that we needed to look at some other options," Council Member Steve Goggans said.
The desire to hire someone from outside the county drove the decision. "It's always good to have a fresh perspective," he said.
Administrator Sel Hemingway announced in May that he would retire at the end of the year. He told council on Wednesday that he is willing remain "for a very limited period," Goggans said.
He added that while the recruiters will widen the search, they will also revisit the previous list of applicants.