Staggered start plan gets mixed reviews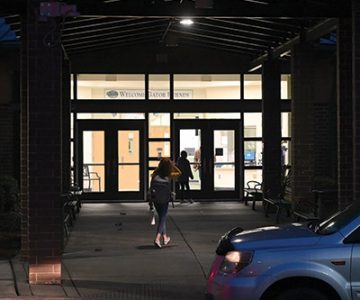 Teachers at Waccamaw Intermediate who responded were evenly divided over the three options.
The Georgetown County School District is still working on its reopening plans, but its plan to stagger school start times is not popular with some parents.
The district announced in June that elementary and intermediate schools would start at 7:30 a.m. and middle and high schools at 8:30 a.m. for the 2021-22 school year.
The district surveyed parents, students and staff members about start times. Nearly 3,500 responses were received.
Among parents, 40 percent prefer all schools starting close to the same time; 38 percent prefer the district's plan. The rest favored the schedule adopted for the pandemic: 7:30 for elementary and 9 a.m. for middle and high.
The district plan was the choice of 54 percent of principals, 49 percent of students and 46 percent of staff members.
"It's not an easy answer, I definitely understand the parents' point of view," Board Member Lynne Ford, the parent of a high school student, said. "I believe that as the district hears more responses of parents, hopefully that will inform the next iteration of schedules. I'm thinking they may well tweak it some."
The district initiated staggered start times when schools reopened last September because COVID-19 safety protocols allowed for fewer students on buses and required that buses be cleaned between routes.
Alan Walters, the district's executive director of safety, said the limit on the bus capacity is now a recommendation, not a requirement.
At Waccamaw Intermediate School, principal Travis Klatka is working on an after-school program so students will have the option of waiting until older siblings are dismissed from Waccamaw Middle School.
"We recognize it might be an inconvenience for some people but it might be an opportunity for others," Walters said.
Earlier this month, Superintendent Keith Price said the district is also looking at ways to allow middle and high school students to be dropped off earlier and be supervised by school personnel.
Board Member Patti Hammel suggested the district have staff available for students who need extra help. She said students would benefit more from the help in the morning, rather than the afternoon when they're tired from being in class all day.
"More children would go for help if they could go in the morning," Hammel said. "Paying teachers that extra time to teach in the morning would be really critical for those children."
Ford agreed.
"If you're going to open the school earlier to accommodate the needs of the students, instead of having them sitting there for an hour or so, have some sort of programming that would really enhance their learning," Ford said. "That makes sense."
Hammel said a lot of middle and high school students also take part in after-school activities, which often is what keeps the child in school.
The district also surveyed parents about plexiglass barriers and received 1,990 responses.
Of those, 47 percent preferred plexiglass be removed from classrooms, 29 percent wanted plexiglass available for students who want to use it, and 24 percent wanted it kept in all classrooms.
The district did not survey anybody about wearing masks. Under a budget proviso passed by the state legislature and signed by Gov. Henry McMaster, school districts cannot require masks to be worn inside any education facilities, nor can mask policies be enforced or even announced. A district could lose state funding if it violates the proviso.
Walters said the district will have to decide what it will do if parents wants their child to wear a mask and sit behind plexiglass but the child won't do it.
Because the district received money under the federal government's American Rescue Plan, it is required to solicit feedback on its reopening plans and provide documentation on the feedback process.
Anyone who wants to comment on the district's plans can send an email to publiccomments@gcsd.k12.sc.us.
The school board could vote on a reopening plan at its meeting on Aug. 3. The board doesn't meet again until Aug. 17, the day before students return to school.
Dr. Brannon Traxler, public health director for the state Department of Health and Environmental Control, said this week that the agency will release its school reopening guidelines next week.
The recommendations will include: everyone who is eligible should get vaccinated, unvaccinated people should wear masks while indoors, contact tracing should continue after people are diagnosed with COVID-19, and districts should make sure no one is bullied or criticized at a school for wearing a mask.
Walters said the district will look at the guidelines from DHEC and the Centers for Disease Control and Prevention before wrapping up its reopening plan.
However, as with anything since the start of the pandemic, all plans remain flexible, Walters added.
County schools will be open next week for in-person registration for the coming school year.
Hours on July 27 will be:
• Waccamaw High, 9 a.m. to 1 p.m.;
• Waccamaw Elementary, noon to 5 p.m.;
• Waccamaw Intermediate, 1-5 p.m.; Waccamaw Middle, 2-6 p.m.
Hours on July 28 will be:
• Waccamaw Elementary and Waccamaw Intermediate, 9 a.m. to 1 p.m.;
• Waccamaw High, 1-6 p.m.;
• Waccamaw Middle, 2-6 p.m.
For more information go to the school's website.