State creates no-wake zone in front of marina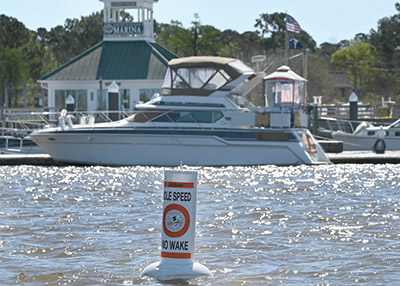 One of eight buoys that mark the no-wake zone in the Waccamaw River.
After being tossed by the tempests raised by the wakes from passing boats, the boaters who dock at Heritage Plantation Marina hope the waters will be calmer this year.
The state Department of Natural Resources installed a string of buoys in the Waccamaw River earlier this month to establish a no-wake zone in front of the marina. That followed years of efforts by Heritage property owners and boaters that had been rebuffed by the agency.
"They considered us a private marina since it's not open to the public," Jay Sheely, the dockmaster at the marina, said.
Last summer, the Heritage Plantation Property Owners Association renewed their request. Sheely documented the damage that had been caused by boat wakes.
Dwight Gaines, a Heritage resident, was docking his boat at the 40-slip marina on one afternoon in August 2018. His grandson was on board.
A passing boat threw out a large wake.
"While concerned with the safety of my grandson along with the rocking and violent bumping against the dock, my index finger on my right hand was trapped between my line and the cleat," Gaines said in a statement sent to DNR. "As a result, my finger tip was amputated."
The accident sent Gaines to the emergency room and required follow-up visits to a hand surgeon.
Another boat owner, Thomas Gates, said that despite efforts of the dockmaster to put up signs and radio passing boats, the boat wakes continued to damage vessels at the marina and injure people on boats and on the docks.
"It soon will be a real tragedy when pets, small children or elderly persons will succumb to this reckless behavior," Gates said in a statement to DNR.
Doug Decker, a POA board member, told the agency that one boater was thrown overboard by a wake. Others have fallen from their boats to the docks.
After filing a new request for a no-wake zone, Decker said he asked state Rep. Lee Hewitt to help. That resulted in an invitation to the POA to make a presentation to the DNR board.
Before that could happen, Decker got a call from Maj. Gary Taylor, who is in charge of field operations and investigations for DNR. He told Decker that the no-wake zone would be established and marked with buoys.
"This effort has been going on for many years," Decker said. "After many years of rejection, we won the battle."
DNR did not respond to a request for comment.
"I don't know why DNR changed its mind," Hewitt said.
He said he wasn't going to claim any credit. He had referred the issue to Kevin Ryan, the agency's legislative liaison. Ryan served a term in the House from Hewitt's District 108 before joining DNR.
There are eight buoys that form a crescent in front of the marina's face dock.
"The concept is protection of other people on the water and adjacent property," said Tom Winslow, a lawyer who has a degree in maritime law.
Although boaters are responsible for their wakes, outside a designated no-wake zone that requires the victim to take civil action. In a no-wake zone, "it's potentially a criminal fine," Winslow said.
DNR told Sheely that there would be a 45-day grace period between installation of the buoys and enforcement.
The river is part of the Atlantic Intracoastal Waterway, and transient boat traffic picks up in the spring and fall. The summer is a peak time for recreational boaters.
So far, the no-wake zone seems to be working.
"There's some that I had to call on the radio," Sheely said. "We'll just have to wait and see."
Bob Anderson, a County Council member, lives just south of the marina. He is also watching to see if the buoys hold up in mid-channel, where the water is about 40 feet deep, and in strong currents that follow heavy rains.
If they do, "I'd like to get buoys all the way down to Butler Island," Anderson said.
That would create a no-wake zone through Hagley and Allston Bluffs, which has a community dock.
Hewitt was also cautious. He has watched transient boats on the waterway.
"Don't think your problem is going away," he said. "It's an enforcement issue."