State draws a line in the sand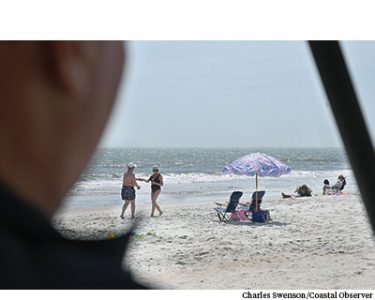 A couple of shaggers at North LItchfield are watched by the beach patrol. The state closed access to beaches and waterways this week.
Public access to the beaches is closed and short-term rentals on the Waccamaw Neck are banned until the end of the month. But that doesn't mean the beaches are closed or the beach houses are empty.
Second-home owners and their friends are filling the houses. They are still able to use the beach, as are people with private access through gated communities.
Gov. Henry McMaster this week ordered the closing of accesses to the beaches and public waterways after a weekend of 80-degree weather that drew summertime crowds. It also drew complaints that people were not adhering to social-distancing rules to help stop the spread of the coronavirus.
The access ban has also drawn complaints. "I think it's seriously flawed," state Sen Stephen Goldfinch said. "You've literally relegated us to the house."
He spoke with McMaster and hoped guidelines on enforcement would east the restrictions.
"They've done nothing about it," Goldfinch said. "You can count on it being around a couple of weeks."
The Georgetown County Sheriff's Office had three pairs of deputies on beach patrol over the weekend. Pawleys Island Police had extra officers on duty. No major gatherings were reported.
"It looks like a lot, but when you get up close, they're all spread out," Lt. Mike Nelson of the sheriff's office said of the beachgoers at Litchfield..
A man approached the beach patrol in front of Litchfield by the Sea on Saturday afternoon. "I don't want to rat anybody out, but there's a group of 15 or 20," he said, pointing toward North Litchfield. "I don't want them to ruin it for everybody and they close the beach."
Sgt. Chuck Weaver and Deputy Ryan Matthews headed up the beach in their ATV. The group of teens numbered around 10.
"Can you guys spread out a little?" Weaver asked. They did.
Aside from families, it was the first group that the deputies had found that exceeded the three-person threshold for public gatherings invoked by McMaster to help halt the spread of the coronavirus.
Weaver, who heads the beach patrol, said he understood the desire to get to the beach after two weeks of school closings, restaurant closings and the closing of sports and entertainment venues. "When you've done all the yard work, where are you going to go?" he asked.
Calls came in all day about crowds. One reported a large gathering near the Litchfield Inn, where Weaver and Matthew had just passed and noted that the crowd seemed to be thinning out.
Another call came from Garden City. A woman reported a golf cart parked on the street in front of her house. Weaver talked her through the details. It was parked in the road right-of-way. But the woman said she came to the beach to get away from people and it was crowded.
"I understand," Weaver said.
He also got a call from DeBordieu, where he and Matthews had been on patrol earlier. Security guards said crowds had gathered and were ignoring requests to disperse. Deputies were dispatched.
The state Department of Natural Resources, which had spotter planes in the air, also reported finding large crowds on the beach at the south end of Sandy Island, between the Waccamaw and Pee Dee rivers. Wildlife officers told them to disperse.
State Rep. Lee Hewitt of Murrells Inlet went to the island to investigate. Boats were rafted up. The beach was full. "It was like summertime over there," he said.
The governor's executive order prohibits boats from rafting up or beaching. Boaters can anchor to fish, but otherwise have to remain under way. The closures don't apply to commercial fishing.
The closing of beach and water access followed emergency orders last week by Georgetown County and the town of Pawleys Island prohibiting short-term rentals through the end of April. The town's order took effect after the Saturday check-in time. Renters will be allowed to stay for the duration of their contract. The county order banned check-ins after Friday, with existing renters also allowed to complete their stay but not allowed to extend their contracts.
Officials agreed those orders will be hard to enforce.
"If we receive a complaint, we'll investigate it," Pawleys Island Police Chief Mike Fanning said. "We'll have to coordinate with whoever's doing the rental."
While enforcement is difficult, "if anything, it cuts down on people moving around," County Council Chairman John Thomas said. He lives at North Litchfield and received complaints about people on the beach. "Everybody's been pretty dispersed," he said.
"What the counties were trying to do by banning vacation rentals didn't stop the properties from being used," said Hewitt, who is also owner of Garden City Realty. "Now owners are coming down here to get away."
Town Council discussed closing the beach accesses last week. Mayor Brian Henry opposed the idea.
"Then we're saying Pawleys Island is open as a private beach for the oceanfront property owners. The rest of you, sorry, but stay away from our beach. It's a public beach."
The governor's order does not affect owners of beachfront or waterfront property. But at a press conference this week, McMaster said that does not mean they can flout the restrictions. "If someone is abusing that, then there is another law" that prohibits gatherings, he said.
For law enforcement, the goal is now to make sure people don't sneak past barriers at the accesses or park at vacant beach houses.
"Most people, although they don't like it, will abide by it," Fanning said. With weekend temperatures forecast to be in the 60s, "the weather's going to be on our side."